Fauns and Satyrs are such an innovative Halloween costume option. If you're into making your costumes or props then no doubt you will want to fashion your own DIY Faun Costumes.
On this page you'll find a series of video instructions featuring different ways to make satyr or faun hooves, legs and ears. There's also some ideas for tailoring your costume to represent a specific famous faun or satyr from pop culture.
If you'd rather buy a ready-made costume or parts for your satyr or faun costume, then check out Faun and Satyr Costumes.
How to Make Your Own Satyr or DIY Faun Costumes
There is more than one way to make your ideal faun costume. Here are five videos that show different techniques.

Video 1: Hooves made from platform shoes with the heel sawed off, the legs made from upholstery foam, plastic wrap, duct tape and covered with fur. Horns created from real antlers attached with wire and a head band, ears created with same fur as legs.

Video 2: Faun legs made from foam (she used 2″ thick foam so had to double up on the pattern to get the required thickness). Foam is attached to pants and covered with satin so they can move freely under the fur.

Video 3: Faun hooves made from platform sandals, covered with wire screening, papier-mâché, coated with car bondo and painted.

Video 4: If you don't want to be standing on your toes or wearing platform shoes, you can also make your hooves using tennis shoes or running shoes (this is a great way for the guys to make their hooves too). Cover the front of your shoes with cardboard, shape your hooves with fimo clay and bake in the oven (just the clay, not the whole shoe). Affix clay to the shoe and paint.

Video 5: Make faun ears using a headband, fimo clay and fur.

Loading Videos...
Materials to Make Your Own Faun Costume – DIY Satyr Costuming
Upholstery Foam Padding (5″ x 26″ x 26″)

Foam is essential to create the shape of the faun legs. Upholstery foam is thick and can be cut and manipulated to your desired shape.
Gray Mongolian Faux Fur by the yard

Dark Camel Mongolian Faux Fur by the yard

Fur fabric can be applied over top once the basic shape has been created. The fur fabric can be purchased by the yard and is available in many great colors.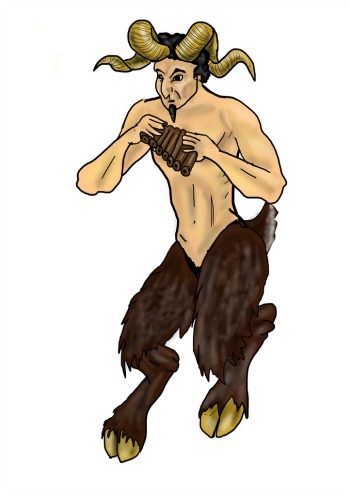 Famous Fauns: Satyrs in Fiction and In Film
The concept of fauns and satyrs has been passed down through the millennia and captivated the imaginations of artists and authors alike. These are just a few of fauns that have become a part of pop culture. It would be lots of fun to choose one of these famous fauns to model your costume after.

Pan: The Greek god of wilderness, the hunt, and shepherds known for playing the pan pipes and courting nymphs. He is associated with fertility and the rebirth of Spring. If you want to dress up as Pan, be sure to accessorize your costume with panpipes.

Puck (aka Robin Goodfellow): A mischievous fairy, sprite or hobgoblin from Old English folklore with the appearance of a faun. Puck's popularity increased after he was featured in Shakespeare's A Midsummer Night's Dream.

Tewt: One of Hercules' sidekicks in the 1963 series The Mighty Hercules. Tewt is a small satyr who doesn't speak but expresses himself by playing the panpipes.

Mr. Tumnus: The faun in C.S. Lewis' The Lion, The Witch and the Wardrobe was the spark that began the whole Chronicles of Narnia series. Lewis had a fleeting vision of a faun scurrying through the snow carrying a stack of parcels and an umbrella. If you want to dress as Mr. Tumnus, be sure to include his trademark red scarf in your costume.

Pan's Labyrinth Faun: A faun serves as Ofelia's magical guide in the fantasy world of the labyrinth. He gives her three tasks to prove herself so she can return to the Underworld. This faun is a scarier version of the faun with a body that looks scaly rather than made of flesh and fur. If you want to dress as the Pan's Labyrinth faun, you will need large twisted horns. You can paint designs on your forehead to mimic the ones seen on the faun.

'Satan' from South Park: Matt Stone and Trey Parker based Satan's appearance on that of the satyr – with horns, bowed legs and cloven feet.
For more costume ideas (including ready-made costumes and props) and make-up tutorials, please visit Satyr Costumes: Let the 'Faun' Begin
Images:
1) Faun Statue, photo by gravitat-OFF, used under CC2.0.
2) Faun Playing Pipes by Goosemouse, used under CC 2.0