An evil Pennywise clown costume can be bought ready-made or pieced together with accessories and clothing.
Pennywise, the demonic killer clown from Stephen King's masterpiece It is a terrifying and iconic monster. Although he is known to take the form of your worst nightmare – morphing into a giant spider, a teenage werewolf, a mummy – he most frequently shows himself as a clown.
Pennywise comes out of 'hibernation' every 25-30 years and feasts on the children of the fictional town of Derry, Maine. Now how's this for meta: The original mini-series based on Stephen King's novel was released in 1990. It's been 27 years and Pennywise makes his return this September in the greatly anticipated remake.
If you'd like to dress up as Pennywise the clown this Halloween then stick around.
There's a ready-made deluxe 1990 Pennywise costume as well as an awesome new 2017 Pennywise costume and mask. There are also a couple of vintage-inspired clown costumes that would be perfect for a 2017 Pennywise costume and many scary accessories to help you piece together a DIY version.
You can choose to wear a latex mask or check out the makeup tutorials to create your own Pennywise look based on either the 1990 or 2017 version of the killer clown.
We all float down here. You'll float too!
Buy Ready-made Pennywise Clown Costumes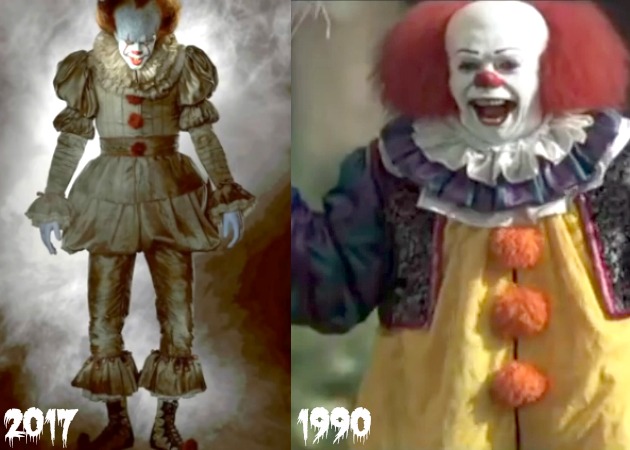 The 1990 mini-series It stars Tim Curry as Pennywise. The costume he wears is a traditional clown outfit meant to appeal to and lure children. It consists of a baggy bright yellow jumpsuit with orange pompoms up the front, purple and teal puffy sleeves, a vest and a ruffled collar. Often he is seen holding a bunch of balloons although sometimes it's just one red balloon.
For the 2017 remake with Bill Skarsgård in the iconic role, they've gone a different direction for the costume. Pennywise, or It, has been alive for millennia and has been terrorizing the town of Derry for centuries. This version of the evil clown costume has a vintage feel to it borrowing from the Medieval, Renaissance and Victorian periods. The colors are washed out and plain, more fitting of what would have been available in an earlier era, and the collar looks almost Elizabethan. I'm terrified!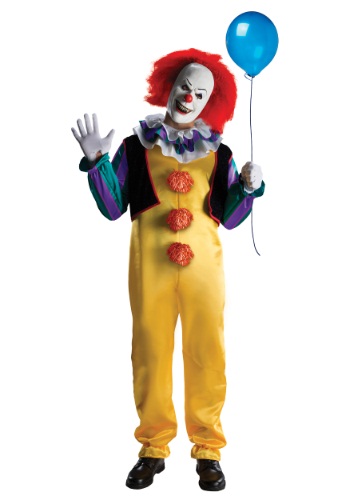 Deluxe Evil Clown Pennywise "It" Costume

The Deluxe Pennywise Clown costume is based on the outfit Pennywise wore in the 1990 mini-series. The costume includes the brightly colored clown jumpsuit with elastic at wrists and ankles, glittery vest, collar, gloves and mask with attached hair. Available in extra-small, standard, large and extra-large sizes. Shoes and balloon not included.
2017 It Pennywise Clown Costume

2017 It Pennywise Mask – Bill Skarsgård

The 2017 Pennywise It Clown costume looks amazing. Combining chiffon, cotton, pleather and satin the detailed outfit includes the pants, top, gloves and collar. You must purchase the mask separately. Standard size available.
The 2017 Pennywise mask is sold separately and can be either combined with the costume or used with your own DIY version. Made of latex, this full head mask is one size fits most. There are holes through the eyes so you can see easily while wearing the mask. The details of this mask are spookily accurate. All you need now is your red balloon.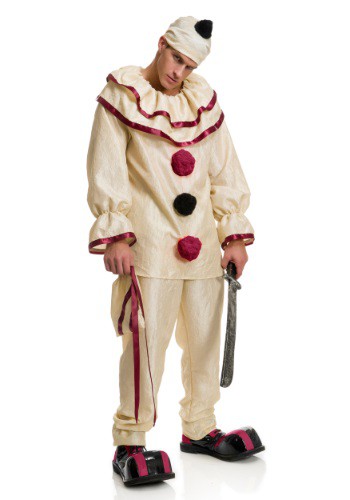 Vintage Scary Clown Costume with Red Trim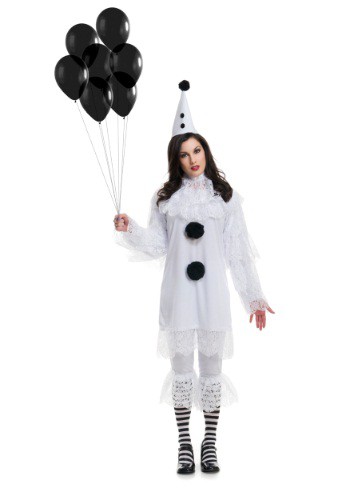 Women's Ruffled Vintage Clown Costume – Pennywise

If you'd like to dress up as 2017 Pennywise but don't want to spring for the official costume then there are some
scary clown costumes have a vintage appeal that would be perfect. Lose the hat, add a red clown wig and follow the 2017 Pennywise make-up tutorial shown further down. Don't forget to buy a single red balloon!
The vintage scary clown costume is a four-piece set that includes the shirt with ruffled collar and sleeves and pompoms at the front, matching pants, hat and bag. I really like how the fabric is a creepy off-white color with blood red accents. Available in Medium, Large and Extra-Large. Clown shoes not included.
The ruffled vintage clown costume includes the shirt with ruffled lace sleeves and pompoms, a ruffled lace overlay collar, matching bloomers and hat. Available in Small, Medium, Large and Extra-Large. Striped socks and shoes not included.
DIY Pennywise Costume
For a DIY Pennywise costume you can go all out recreating the clown look or keep it simple. In fact, with just a few accessories this costume is an excellent last minute Halloween costume idea.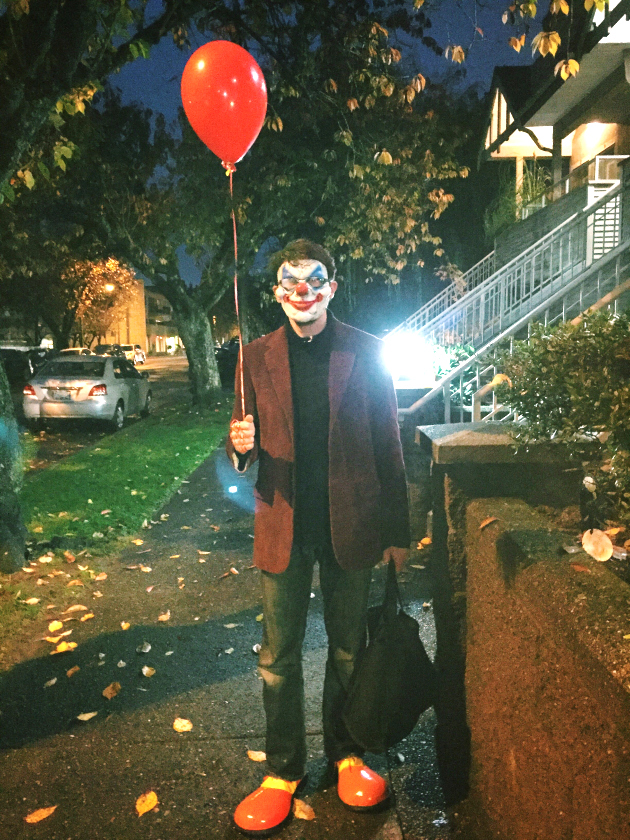 Clothing:
For your scary Pennywise clown costume you have lots of options for clothing.
For a 2017 Pennywise look you could start off with vintage inspired clothing such as a Renaissance shirt and then add your accessories.
For 1990 Pennywise you can get a baggy jumpsuit and attach pompoms. Check out this tutorial to make a collar and cuffs out of dollar store paper daisies. You could also choose brightly colored clothing with polka dots or stripes to create a clown vibe.
Or you can keep things simple and wear leggings and a long sleeve shirt and then accessorize.
You can see from the above photo that my husband just wore his normal clothing – jeans, a shirt and a jacket – and let his accessories do all the work. Low maintenance is great if you're short on time.
Clown Shoes:
Nothing says 'clown' like a pair of over-sized colorful shoes. These fun costume shoes fit over your regular shoes.
Balloons:
Pennywise is often seen carrying a bunch of colored balloons, but he is also sometimes seen carrying a single red balloon.
Carrying balloons ups the creepy factor of your Pennywise costume. As an added bonus, if your group gets separated while trick-or-treating, everyone can look and head for the balloon.
Hair:
Consider using costume hair color spray. If possible tease your hair first. Or buy a red clown wig.
Clown Masks:
A freaky clown mask is a great way to quickly achieve a scary look without makeup.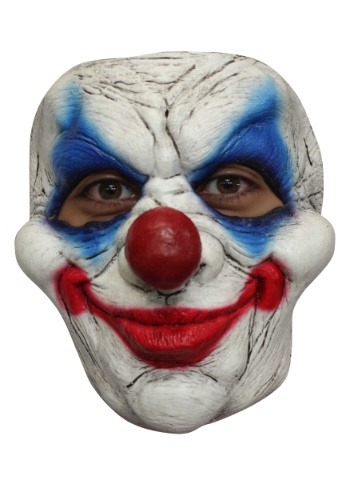 Creepy Clown Mask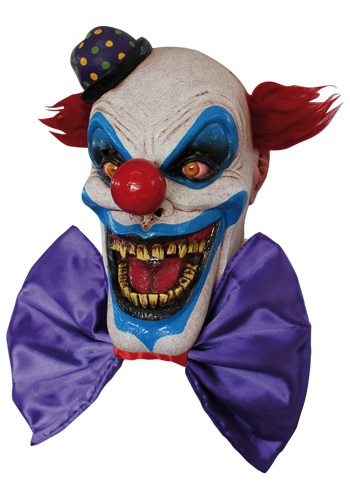 Evil Chompo Clown Mask

The creepy clown mask is the one my husband used for his Pennywise costume. It's a rubber latex mask with holes for the eyes and nostrils and is secured by an elastic. It's super creepy and will bring fear to the heart of trick-or-treaters.
Another cool mask that was clearly inspired by Pennywise is the scary Chompo clown mask with giant bow-tie, tufts of red hair and a miniature hat. Gotta love that red nose and big discolored teeth. This mask covers the entire head.
Razor Sharp Costume Teeth
If you plan to do your own evil clown make-up, then consider these officially licensed Pennywise teeth. We all know that Pennywise had badly stained teeth, but right before he devoured his victims they became razor sharp.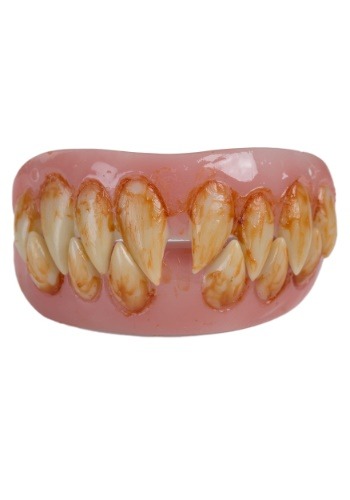 Officially Licensed Pennywise Teeth Costume Accessory

These scary sharp costume teeth come with upper and lower teeth that can be custom molded to your teeth. Instructions included.
Scary Clown Makeup Tutorials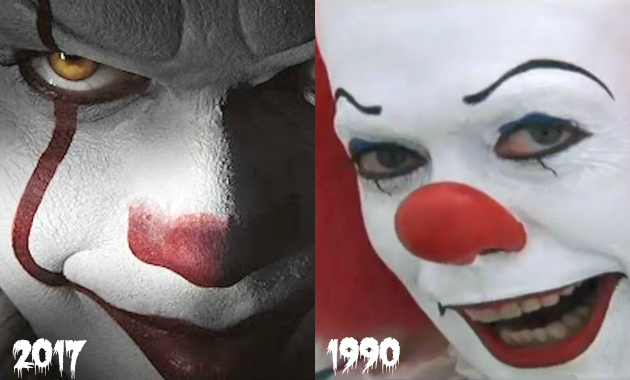 The makeup that Pennywise wears in the 1990 version is closer to traditional clown makeup. His face is painted white, he's got blue eyelids, painted eyebrows, bright red lips and a big honking clown nose.
The 2017 Pennywise deviates subtly from the earlier version. He still has the white face but the comical blue eye makeup is gone and replaced with blood red streaks that look like he's bleeding from the eyes. He still has bright red lips but his nose is merely stained red instead of being a big round clown nose. This version is definitely more sinister.
Video 1: A tutorial for the 1990 Pennywise clown face.
Video 2: This tutorial recreates the 1990 Pennywise look from after he had been sprayed with 'battery acid' (Eddie's inhaler).
Video 3: This tutorial helps you to create the 2017 Pennywise clown face.
Video 4: This is a fairly easy general evil clown make-up tutorial that would be perfect for Pennywise.

Loading Videos...
This Halloween You'll Float Too!
Images:
DIY Pennywise costume by Isle of Halloween
Other images are screen captures from the 1990 mini-series It and the 2017 trailer and are Fair Use.
Updated: October 3, 2017