Ahoy! A toddler pirate costume is a great idea for Halloween. No doubt your little tyke will want to wear that outfit for months afterward so you may want to select a costume with a little room to grow. You'll find lots of great pirate costume ideas on this page.
Pirate Costumes for Toddler Boys: There are several cute costumes from rogue pirates (one has a built in 'six pack' so your little guy can pretend he's buff like a grown up pirate) to the classic pirate costume and even an officially licensed Jake and the Never Land Pirates 'Deluxe Jake' costume.
Pirate Costumes for Toddler Girls: Little girls really have a lot of options. There's no reason why your daughter couldn't wear one of the costumes geared toward boys. Or, there are several pirate costumes specifically for girls with a dress instead of pants. Your little girl could also dress up as 'Izzy' from Jake and the Never Land Pirates.
If you'd rather make your own costume then there is a DIY section with links to some pretty great tutorials (including one with Martha Stewart dressed up and talking pirate, it's a hoot).
You'll also find a selection of pirate expressions that can be lots of fun for pirate make believe.
Pirate Make Believe
Kids are attracted to pirates because of their carefree and adventurous lifestyle. There are no rules (unlike at home) and the pirate life is lots of fun. Although adult films tend to show the darker nature of pirates, for kids it's the lighter side of the pirate life that is shown.
There are lots of pirate tv shows that appeal to kids such as Disney's Jake and the Never Land Pirates and even popular shows such as Dora the Explorer and The Backyardigans have several pirate themed episodes.
So it's no wonder that kids all over the globe want to dress up as a pirate and have adventures in the backyard, in their room or wherever they are. When your little one's imagination is engaged expect to hear lots of pirate talk. You may even be asked to walk the plank.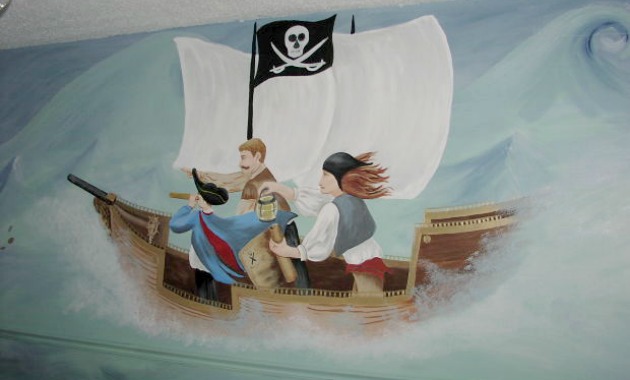 Pirate Costumes for Toddler Boys
Little Boys' Ahoy Matey Pirate Costumes for Toddlers

A black, red and white pirate costume for toddlers. This costume looks fabulous and includes the white shirt with built in pirate vest, the tattered black pants with patches, the red and black stripe waist tie that also matches the bandanna and two skull and crossbones clips that you can affix to the bandanna and at the waist. The pirate sword needs to be bought separately.
Based on customer reviews this costume may run a bit small so order the next size up. You may want to add an extra layer under the costume if it's cold so having a little extra room is useful.
Rogue Pirate Costume for Boys

Little boys will love this costume because it has a built in 'muscle torso' to imitate a six-pack. A pirate needs to be buff to sail the seven seas. This is a jumpsuit style costume that includes the brown striped pants, muscle torso built into the pirate shirt with attached vest, boot covers and a skull print waist sash and headband. Pirate sword not included.
This costume runs true to size but if your child is tall for their age then you will want to order the next size up.
Little Boys' El Capitan Toddler Pirate Costume

A classic pirate costume with a red and black jacket that includes an attached white shirt with jabot, black pants, black boot covers and a black pirate hat with skull and crossbones and a feather. Sword and shoes to be supplied by you. Great for a Halloween costume and for costume play. Runs true to size.
Deluxe Captain Jake Costume for Toddlers – Jake and the Neverland Pirates CostumeCheck Availability
This officially licensed Jake and the Neverland Pirates costume is brand new this year. The Deluxe Captain Jake costume is a jumpsuit style costume with attached jacket and belt (the belt buckle is removable). The costume also includes the pirate boot covers. Available in sizes 2T and 3T – 4T.
Pirate Glossary – Fun Expressions to Use During Pirate Playtime
Aye – Yes
Ahoy! – Greetings!
Arrr! – A positive expression
Arrrggh! – A negative expression
Avast! – Stop that!
Avast Ye Scurvy Dogs! – Stop that right away or there will be consequences.
Batten Down the Hatches! – Cover the openings on the lower decks. (This is done during a storm to prevent the ship from taking on water.
Blimey! – To express surprise.
Come about! – To turn the ship around while sailing into the wind.
Fire in the hole! – A warning that the cannon will be fired.
Haul wind! – To steer the ship into the wind
Heave-To! – To slow the ship down and adjust direction. Also a command given to another ship that the pirates are preparing to board.
Land Ho! – Land is in sight
Sail ho! – Another ship is in view
Shiver me timbers! – An expression of surprise
Show a leg! – A phrase said when waking up a pirate
Swab the deck! – To wash the deck
Walk the plank! – To force someone off the ship by walking the plank, usually blindfolded
Weigh anchor! – To pull up the anchor and sail away
Outfits for Girls – Pirate Costumes for Toddlers
Pirate Girls Costume with Skull and Crossbones

This is a great costume option for female Buccaneers. This costume includes a tunic style dress with white pirate shirt (the shirt ties at the back so you can adjust how tight or loose it is), red and white striped tights, black and gold boot covers and a red bandanna. The tunic has a red belt with buckle and there is a skull and crossbones on both the tunic and the bandanna. Pirate sword not included.
Based on customer reviews the costume may run slightly small. So buy accordingly depending on if you want room to grow or extra room to layer for cold weather.
Pirate Princess Costume for Toddlers

This very special costume puts a feminine twist on the classic pirate costume. This is a two-piece costume which is great because you don't have to fuss with many layers or parts. The dress has a black and white stripe skirt with tattered hem, attached pirate shirt with jabot and red vest fastened at the waist with a buckle. The pirate hat has an attached red bandanna and is adorned with a whimsical skull. Shoes not included.
The costume may be a bit small if your toddler is approaching 18 months but it is very durable and can be used long after Halloween.
High Seas Buccaneer Costume for Toddler Girls

This Buccaneer toddler pirate costume will be great for your little pirate fashionista. The costume includes a dress with red and brown striped skirt and attached white pirate shirt and brown fitted vest. It also includes the belt with stylish buckle, matching brown boot covers and brown pirate hat with red bandanna.
The costume runs true to size although you may need to adjust the belt and boot covers.
Lil' Pirate Cutie Toddler / Child Costume for GirlsCheck Availability
Black, red and white little pirate costume for toddler girls. This costume includes the dress with a white pirate shirt bodice, black and red dress with skull and crossbones accents along the hem and at the waist. The costume also includes a matching red and black stripe bandanna accented with skull and crossbones. The outfit doesn't include the hoop earrings, tights or shoes. Available in 2T – 4T and 4 – 6 sizes.
Classic "Izzy" Costume for Girls – Disney Jake and the Never Land PiratesCheck Availability
Little fans of the show Jake and The Never Land Pirates will love the opportunity to dress up as Izzy and pretend to fly with her magic pixie dust. This officially licensed Disney costume includes the pink top with scalloped hem, the purple pants, pink head scarf, and of course the pixie dust pouch necklace. The pink sparkle shoes are not included but can be purchased separately. Available in 2T and 3T – 4T sizes. The costume does run a bit on the small size so if in doubt order up.
DIY Pirate Costume Ideas for Kids
Pirate Dress-Up Ideas. Some tips and a video to make a quick and easy pirate costume at home.
DIY Pirate Toddler Costumes. Another cute DIY pirate costume idea. This one is super cute for toddlers.

This video teaches you to make an authentic pirate hat from kraft paper, a hook hand, buckles and a pirate pouch for your loot. This is a pretty good tutorial and definitely worth watching even just to see Martha dressed up as a pirate.
Fairwinds and godspeed, Happy Halloween me hearties!
Image:
1) Pirate Costumes for Toddlers from Amazon
2) Pirate Ship Mural, image courtesy of MorgueFile