Egyptian goddess costumes are a very sexy option for Halloween or an Egyptian themed costume party. You can take any Cleopatra or Egyptian Queen costume to create your goddess look.
On this page you'll find ready-made Egyptian Goddess costumes as well as some DIY options. You will learn more about the individual Egyptian Goddesses in case you want to tailor your costume to represent one of these deities. There are also some really great costume accessories to complete your look and makeup ideas as well.
Egyptian Goddess Costumes for Adults
Egytpian Goddess Costumes – Jewel Of The Nile Full Length Panne Gown

This beautiful white and purple costume includes the dress with pleated hem and lame draped belt, bejeweled belt buckle, cape and beaded headpiece. Available in small, medium, large and x-large.
Black and Teal Egyptian Sexy Goddess Costume
Black and Teal Egyptian Goddess Costume

This amazing costume includes the dress, glovelettes with cascading fabric, belt, serpentine crown and collar. The Egyptian Ankh staff can be purchased separately. Available for women in a range of sizes from x-small through xx-large.
Gold and Black Egyptian Goddess Costume
Gold and Black Woman's Egyptian Goddess Costume

This detailed costume includes a floor length gold dress with attached cape and collar, arm bands and wrist bands. One size fits most.
Egyptian Jewel Goddess Costume
This beautiful turquoise velvet and organza dress is befitting of any Egyptian Goddess or Queen. The outfit also includes and gold belt, bird collar and sequinned headpiece. Available in Small, Medium, Large and Plus Size – 3X.
Isis – Costume for Women
This red and gold costume is striking. The outfit includes the dress with gold, red and blue wings, the matching collar and headpiece. The shoes and wig are not included but may be purchased separately. The costume is new this year and available in Small (6-8), Medium (10-12), and Large (14-16).
Bastet – Egyption Goddess Costumes
Women's Egyptian Cat Goddess Costume – Bastet

If you're looking for a more playful costume then this Bastet Egyptian Goddess costume is the cat's meow (sorry, couldn't resist). The costume includes a form-fitting black catsuit, a teal and gold neckpiece with draped fabric and a cat ear headband. Available in Small, Medium and Large.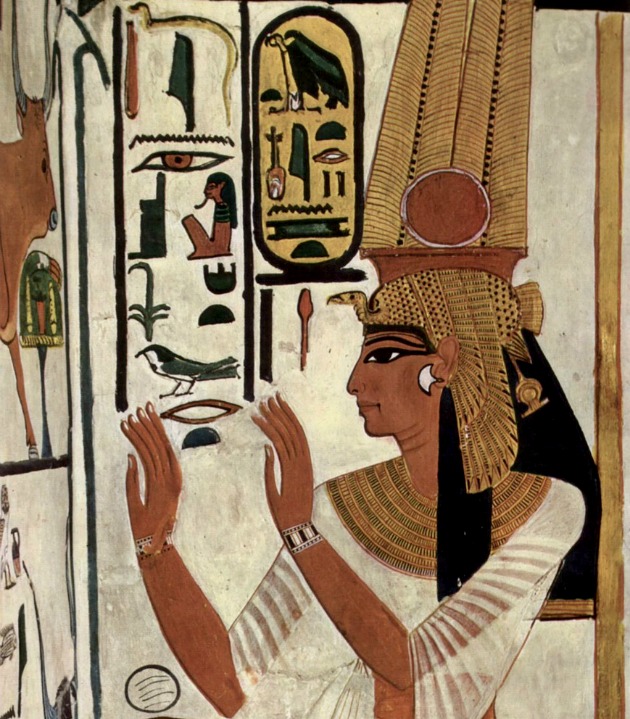 Symbols of Egyptian Goddesses
Each goddess has her own unique symbols. These would be great to incorporate into your costume if you would like to dress up as a specific goddess.
Isis – The goddess of love and marriage, healing and immortality. Isis is often depicted in artwork with outstretched wings so adding a pair of wings to your costume would be a great idea. She is also associated with the color red.
Mut – The queen of goddesses, goddess of all living and breathing organisms. Symbolized by the vulture, the cobra and a double crown (representing upper and lower Egypt). She is often depicted carrying a scepter and an ankh.
Bastet – Goddess of cats, joy and dance, protector from evil. To dress up as Bastet, wear a cat mask, carry a plush cat or wear cat's eye jewelry. You could also carry a musical instrument.
Tefunet – The goddess of weather, the moon, time and justice. She is associated with lions and sometimes shown with the head of a lion. A lion mask would be a great costume accessory.
Wadjet – An ancient goddess representing Lower Egypt and protecting the Kings and Pharaohs. She wore a red crown and is symbolized by the cobra. It is said if the King or Pharaoh were threatened she would spit venom at the enemy.
Nekhbet – An ancient goddess representing Upper Egypt, Wadjet's counterpart. She wears a white crown and is often represented by a vulture. She is referred to as the Creatrix of this World, the Mother of Mothers and Father of Fathers.
Egyptian Goddess Costume Accessories
The right accessories can add dimension and authenticity to your costume.
Metal Snake Armband

Costume Goddess Sandals

The snake was a powerful symbol of protection for the Egyptians and accordingly was often worn as jewelry. A snake arm band is a perfect addition to your costume.
A pair of sexy gold goddess sandals is an alluring addition to your outfit. Available in Small (5-6), Medium (7-8) and Large (9-10).
Egyptian Staff – Ankh
Egyptian Goddess Wig – Egyptian Queen
The Ankh is the Egyptian symbol of life. In hieroglyphics the gods and goddesses are often shown with an ankh staff as they guide the deceased through the Afterlife. This 40 inch Ankh staff will add realistic effect to your costume.
If you'd rather not style your own hair then a classic Egyptian wig is a must. The Enigma wig is made of styled synthetic hair.
Egyptian Goddess Makeup Ideas
The right makeup can transform a costume from good to glamorous. Here are a few makeup ideas to get you started.
Video 1 shows you how to do a classic Cleopatra inspired look using blue eyeshadow and black eyeliner.
Video 2 shows you how to create a more exotic Egyptian princess or goddess look.
Video 3 is a 'golden goddess' tutorial. In ancient Egypt it was believed that the gods and goddesses had skin made of gold. This tutorial will show you how to achieve that look.

Loading Videos...
Make Your Own Egyptian Goddess Costumes
If you'd rather make a costume than buy one then there are several ways to go about it. These tutorials range from simple to complex and should provide you with some inspiration.
No-Sew DIY Egyptian Goddess Costumes. I adore this costume. It's a great concept for those who want to make their own Egyptian Goddess or Cleopatra costume but aren't into sewing. All you need is a bed sheet, some gold faux snakeskin fabric, rhinestones, mod podge, glue, velcro, acrylic paint, a plastic cobra and some geometric ingenuity. The result is fabulous.
Exotic Egyptian Costume by Retrosewing. If you're handy with sewing and patterns then this is a great tutorial. She starts with a costume from her childhood (but you can just purchase new fabric) and uses a pattern to create a new adult costume.
Homemade Egyptian Costume Tutorial. A straight forward tutorial that provides ideas for hair, makeup and a simple robe-style dress created from a rectangular piece of gold fabric.
Have a wonderful Halloween!
Images:
1) Egyptian Woman, Public Domain Image from Pixabay.
2) Heiroglyphics and Goddess, Public Domain Image from Pixabay.