Sexy Roman or Greek goddess costumes are a gorgeous costume idea for Mardi Gras, Halloween or a costume party. If you're looking for sexy goddesses costumes, you'll find a great selection of ready-made costumes to transform you into a gorgeous Roman or Greek goddess. There are also tutorials showing you how to create your own DIY goddess costume.
To complete your look you could buy a goddess wig or watch one of several goddess hair tutorials if you prefer to style your own locks. There are also several beautiful goddess makeup tutorials.
If you'd like to dress up as a specific goddess, then there is an informative section with representative symbols that you could incorporate into your costume.
Full Length Goddess Gowns
Channel your inner Hera with an elegant full length Goddess gown.
White and Gold Grecian Goddess Costume

This costume has a beautiful and classic white dress with gold Greek graphic print at the hem as well as gold embellishments. The outfit comes with a matching headpiece. Shoes not included. Available in sizes small through extra-large.
Sexy Spartan Queen Costume

Roman Goddess Costume – Venus

The plunging neckline and strategically placed flowing fabric make this a gorgeous and tempting costume. The costume includes the dress and the arm band. The jewellery and shoes are sold separately. Available in sized from small through large.
The Venus Goddess costume includes a full length one-shoulder dress with front slit, gold accents and cape. The costume also comes with the cuffs and wreath headband. Available in Medium and Large.
Short and Sexy Roman / Greek Goddess Costumes
Caesar's Delight Goddess Costume

Divine Goddess Costume

The Caeser's Delight Costume is a sexy goddess costume with plunging neckline, cinched waist with gold ties, attached cape with chain detailing and chain headband. Bracelets sold separately. Available in sizes from x-small to x-large.
The Roma Divine Goddess Costume includes a dress with multi-level skirt, a gold waist cincher with leaf design and matching leaf headband. Available in small/medium and medium/large.
---
Symbols of Greek and Roman Goddesses – Embellish Your Costume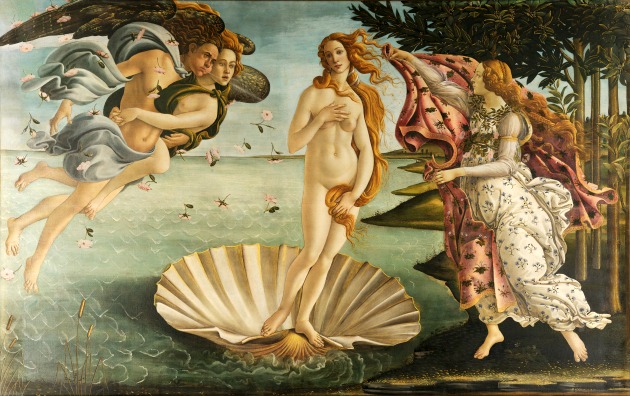 If you'd like to dress up as a specific goddess, then this is a list to get you started. The first name is Greek and the name in parenthesis is the Roman equivalent. Each goddess had one or more symbols that you could use to embellish your costume.
Hera (Juno) – The queen of the goddesses, goddess of women, wife of Zeus (Jupiter). To dress up as Hera, carry a peacock feather to symbolize pride or a pomegranate to symbolize fertility.
Aphrodite (Venus) – Goddess of love and beauty. Embellish your Aphrodite costume with scallop shells (to represent the birth of Venus), doves (the animal of love) or you can wear a rose or carry a mirror to symbolize beauty.
Artemis (Diana) – Goddess of the hunt, wilderness and the moon. To symbolize the hunt, add a bow and arrow set to your costume or bring your canine best friend as your hunting dog. You could also wear a piece of moon jewelry or adorn your toga with a moon border.
Athena (Minerva) – The goddess of wisdom, warfare and arts and crafts. To symbolize wisdom, wear a piece of owl jewelry or carry a plush owl. Carry some weaving to symbolize her patronage of the arts. You can also carry some olives or an olive branch as this was her gift to mortals. A helmet or weapon (spear, mace) would also work well to symbolize war.
Demeter (Ceres) – Goddess of the harvest. She is also associated with the cycle of life and death. Add a sheaf of wheat or a cornucopia to symbolize the bounty of the harvest.
Hestia (Vesta) – The goddess of home and hearth. A symbol of Hestia is the living flame. You could carry a candle to represent this. You could also carry a kettle or a loaf of bread to symbolize the home.
---
A Few More Roman and Greek Goddess Costumes – Variations
Women's Jewel Goddess Costume -Small (4-6)-Multicolored

A colorful goddess costume with the purple dress, green cape with armbands and matching goddess headband. Available in small (4 – 6), medium (8 – 10) and large (12 – 14).
This sexy serpentine goddess costume includes the dress, headpiece and cuff. Available in small, medium and large sizes.
This gorgeous dress is made with flowing red chiffon material and gold accents. Gold earrings and shoes not included. Available in a range of sizes from x-small to x-large.
Sexy Goddess Costume Accessories
Accentuate your awesome costume with some essential accessories.
Gold Goddess Sandals

Roman & Greek Goddess Coin Earrings

A pair of intricate gold faux patent leather sandals is a great addition to your costume. Available in Small (5-6), Medium (7-8) and Large (9-10).
Finish off your look with a pair of coin earrings. These costume earrings are 3.5 inches in length and feature a raised Roman head on the bottom coin. If you have sensitive ears then you may want to coat the earwire with clear nail polish to make them hypoallergenic.
In the next section there are some really great hair tutorials. But, if you'd rather an easier option, check out the selection of Goddess Wigs.
Sexy Goddess Costumes – Hair and Makeup
Hair and makeup are an important part of any costume and sexy Roman or Greek Goddess costumes are no exception.
Video 1: Two quick and easy goddess hair ideas.
Video 2: A more intricate goddess hairstyle with Dutch lace braids.
Videos 3 & 4: Two variations of gorgeous sexy goddess makeup.


Loading Videos...
Make Your Own Goddess Costumes
If you'd prefer to make your own costume then there are many ways you can accomplish this. Each of these videos shows you a different take on the classic Roman or Greek Goddess Costume.
Video 1: How to make a toga. This can be a no-sew costume but it looks really nice with the gold embellishment sewn at the hem.
Video 2: Make your own sexy Greek goddess costume with an over-sized t-shirt and fancy gold belt. Create a gold crown with faux ferns, floral wire and gold spray paint.
Video 3: This really cool tutorial shows you two ways to make a toga dress and how to make a golden flower headband and hair tie.
Video 4: This complete tutorial shows you how to do Roman goddess hair, make-up and a toga dress out of curtains.


Loading Videos...
I hope this page has provided you with some inspiration to put together awesome Roman or Greek Goddess Costumes this Halloween.
Happy Halloween!
Images:
1) Sexy Spartan Queen Costume from Amazon
2) The Birth of Venus by Sandro Botticelli, 1483 – 1485. Public Domain Image.