Finding the perfect Halloween costume for your toddler boy can be a challenge. You want to find something that is functional, durable and affordable. But the costume must also appeal to your child's sense of adventure and active imagination.
On this page you'll find ten amazing Halloween costume ideas that take all these factors into account. There are also a few tips along the way to help with choosing the ideal toddler costume.
Comic Halloween Costumes for Toddler Boys
1. Captain America
Marvel Captain America 'The Winter Soldier' Movie 2 Toddler Muscle Costume

Instantly transform your son into one of the Earth's Mightiest Heroes, Captain America. Also known as Cap or the Star-Spangled Avenger, this superhero is known for his speed, great strength and agility, his noble nature and powerful determination.
This officially licensed Marvel The Winter Soldier Captain America costume includes the patriotic red, white and blue jumpsuit and coordinating headpiece. The shield is not included but is available for purchase separately.
Available in toddler sizes 2T and 3T – 4T.
2. Avengers Iron Man Costume
Avengers Iron Man Mark 7 Classic Muscle Costume for Kids

Most boys will be thrilled at the opportunity to become Avengers cartoon hero Iron Man. Flying through the air at supersonic speed your little superhero will delight in his new found superhuman strength.
This officially licensed Marvel costume consists of a jumpsuit style red and yellow Mark III armored battle suit with built in muscle torso and muscular arms. The costume also includes the Iron Man mask.
Available in Toddler 3T – 4T, 4 – 6 as well as big kid sizes 7 – 8 and 10 – 12.
3. The Amazing Spider-Man
The Amazing Spider-man Movie Muscle Costume

Spider-man has thrilled comic fans since his first appearance in 1962. With Ultimate Spider-Man Spidey has captivated a whole new generation with his superhuman strength, fast reflexes, his Spider-Sense and ability to shoot spider webs from his wrists.
You're little guy will try to cling to the walls and leap over tables and chairs with this officially licensed Marvel Spider-Man costume. The outfit includes a blue and red jumpsuit with built in muscle torso and arms and spider insignia on the front. The costume also comes with a mask that covers the top half of the face.
Available in toddler size 2T, 3T – 4T and 4 – 6.
---
What to Look for in a Toddler Halloween Costume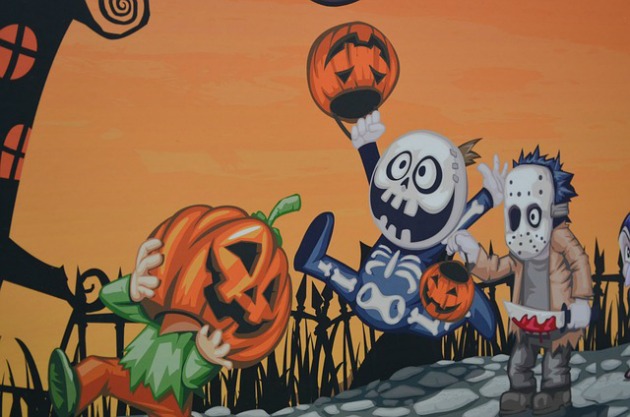 Size – This is a very important aspect to consider. It is much better to buy a costume that is a little on the large side than one that is too snug.
Some costumes run a little on the small side so for this reason you may need to order the next size up.
Halloween can be chilly depending on where you live. If you've ordered a larger size then you can layer clothing underneath the costume to keep your child warm without obscuring the design. It's a complete drag to have to hide the costume under a bulky coat.
No doubt your toddler will want to play dress-up in the costume before and after Halloween. In fact, you may experience a tantrum or two the first time you try to get your son out of the costume. If you have a larger size then your child will enjoy many months of dress-up fun instead of just the one time at Halloween.
Functionality – Toddlers and kids are always very active. You can expect your child to be running around the house, climbing and jumping off the furniture and getting into mischief. You want a costume that isn't so baggy that it restricts movement.
Durability – As mentioned above, toddlers are known for their amazing, non-stop energy. You want a costume that will stand up to the abuse that comes its way. While you can't expect a Halloween costume to last as long as a professional theatrical costume, you do want it to at least last more than one use.
Kid Appeal – This is one factor that absolutely can't be ignored. If your costume doesn't have kid appeal then your toddler won't want to wear it. You know your child best and will know what costume will appeal based on their favorite cartoons, bedtime stories and make believe play time. If they are old enough perhaps you might want narrow it down to a few choices and let them decide.
---
Adventure Toddler Boy Halloween Costumes
4. Ninja Halloween Costume
California Costumes Stealth Ninja Toddler Costume

Your little boy will look powerful and menacing in this fabulous Ninja costume. The outfit includes the black hooded jumpsuit with red trim and ties, a black face mask and a red belt with foam stars attached. The jumpsuit has a muscle torso to give the appearance of a six pack. The costume does not include the ninja sword but you can purchase one separately.
Available in toddler sizes 3T-4T and toddler large (4 – 6) as well as big kid sizes. Based on customer reviews this costume does run a little small so order the next size up.
5. Toddler Astronaut Outfit
Aeromax NASA Jr. Astronaut Toddler Halloween Costume

Ground control to Major Tom… Space travel and exploration has always been exciting but it's even more popular now because of Commander Chris Hadfield's numerous tweets and photos while aboard the International Space Station. His 'Space Odyssey' video was a hit with adults and kids alike.
Your little boy will love the opportunity to be an astronaut with this realistic NASA Jr. costume. The outfit includes a white and black space jumpsuit with official NASA patches (including a Commander patch) and an official looking embroidered NASA hat. The costume looks great as is or you could embellish with an astronaut helmet, boots, gloves and backpack, all available for purchase separately.
Available for toddlers in 18 months, 2 – 3, and 4 – 6 as well as big kid sizes all the way up to 12 – 14. Based on customer reviews this outfit runs a little small so order the next size up.
6. Rogue Pirate Costume
Ahoy Matey Pirate Halloween Costumes for Toddler Boys

Sail-Ho! Your little guy will be sailing the seven seas in search of adventure and treasure with this detailed rogue pirate costume.
The outfit includes the white pirate shirt with tattered sleeves and attached red vest with gold trim, the pants with tattered hem and patches, matching red and black striped waist tie and bandanna and two skull and crossbones clips. The skulls can be affixed at the waist and on the bandanna. The costume does not include the toy sword though, that needs to be purchased separately.
Available in toddler sizes 2T – 4T and 4 – 6. This costume runs a little small so you may want to order a larger size.
7. Dragon Slayer Costume
Knight of the Dragon – Toddler Dragon Slayer Costume

Your tot will instantly transform into brave and mighty knight roaming far and distant lands in search of action and adventure.
This amazing dragon slayer costume comes with a one-piece jumpsuit that includes the upper body armor formed from padded silver satin fabric, a chest plate with gold dragon and shoulder guards. The matching helmet is also included but the sword needs to be purchased separately.
The shoulder guards are secured with Velcro and may need some additional Velcro to make them harder for your child to take off. One reviewer suggested using Velcro to secure the helmet into an 'open' position.
Available in 2T and 3T – 4T sizes.
8. Junior NASCAR Racing Costume
Racing Suit Costume for Kids

If your little guy loves NASCAR then becoming a race car driver for Halloween will be a dream come true. He'll do laps around the house and trick-or-treating will be a race to collect candy.
This realistic racing costume comes with a silky jumpsuit with zippered closure and elastic waistband. The costume is decorated with racing logos and has an official looking neckline and ankle straps.
There are two different color schemes: red and blue or black and white.
The red and blue costume is available in 2 – 4 and 4 – 6 sizing as well as several big kid sizes.
The black and white costume comes in size 4 – 6 and big kid sizes.
Spooky Halloween Costumes for Toddler Boys
9. Toddler Skeleton Costume
Happy Skeleton Toddler Halloween Costume

Your child will love trick-or-treating as a walking, talking skeleton. Usually skeletons are very creepy and well suited to horror films, but this costume has a jovial skull printed on the soft top hat that makes it a perfect outfit for toddlers.
The costume includes a black jumpsuit with skeleton print and attached tattered vest as well as the matching hat. Available in 2T and 3T – 4T sizes.
10. Frankenstein's Monster Toddler Costume
Little Frankenstein Monster Halloween Costume for Toddler Boys

Cue the lightening. Dr. Frankenstein's monster will be brought to life this Halloween. Your little man will delight in the chance to be such a frightening monster and will probably perfect the staggered walk.
This officially licensed Universal Studios costume includes the shirt with attached vest decorated with patches and green monster forearms with embroidered 'stitches'. The monster headpiece is attached to the vest and includes the trademark neck bolts and stitches along the forehead. The pants have a patch that matches the one on the vest and include built-in shoe covers.
Available in 6 – 12 month and 1 – 2 year sizes.
Happy Halloween!
Images:
Dragon Slayer Toddler Halloween Costumes for Toddler Boys from Amazon
Halloween Costumes Cartoon, Public Domain Image from Pixabay