Voodoo costumes are a popular option for Halloween and Mardi Gras. Although Voodoo originated thousands of years ago as a religious practice, elements have infiltrated pop culture and taken on a life of their own. Voodoo costumes are commonly based on pop culture rather than religion.
On this page and the more specialized related pages you can find fabulous ready-made Voodoo Priestess, Witch Doctor and Voodoo Doll costumes as well as costume tutorials if you would like to make your own costume. There are make-up tutorials to help create an amazing look and I've also compiled some clothing ideas if you would like to dress up as the legendary Voodoo Queen Marie Laveau.
Vodun, Vodou, Voodoo – The Origins of Voodoo
Vodun: A very old religion, estimated to be 10 000 years old, practiced throughout West Africa. The word 'Vodun' can be translated as 'spirit' and Haitian Vodou is derived from Vodun.
Vodou: A religion practiced throughout Haiti. Originally spelled 'Voodoo', the spelling was changed to 'Vodou' to distinguish it from Louisiana Voodoo.
Voodoo: Louisiana Voodoo, also called New Orleans Voodoo, was derived from Haitian Vodou, but much like the dialects of language it has evolved and become its own religion. Voodoo in pop culture is flashy, over the top and often flawed. True voodoo is practiced in private because an elaborate show would be disrespectful to the spirits. However, Voodoo is very much a tourist attraction in New Orleans and therefore part of a thriving business sector.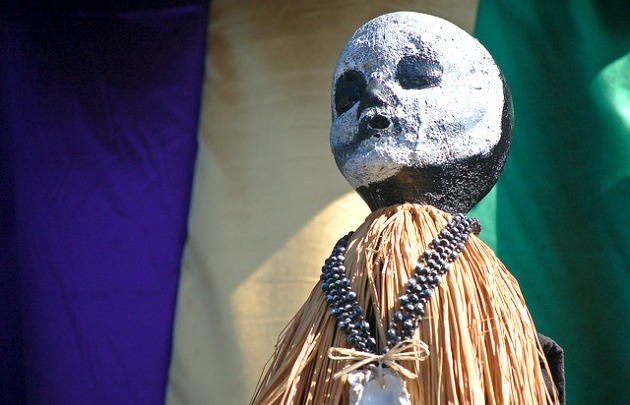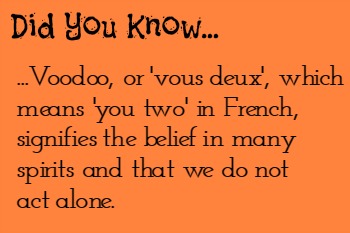 Voodoo Costumes: Voodoo Priestesses, Voodoo Queens and Marie Laveau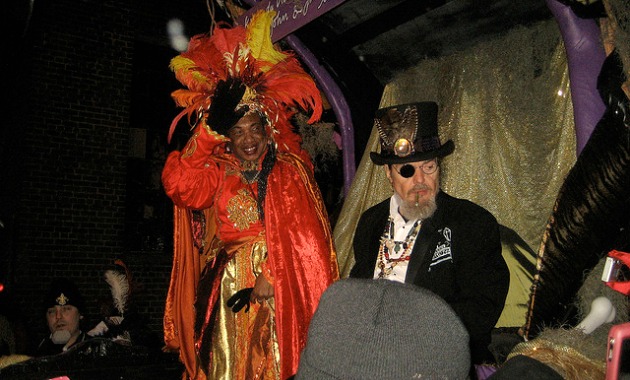 Voodoo Queens and Priestesses were a very important part of Louisiana Voodoo throughout the 1800s. Although there were many important Voodoo Queens no doubt Marie Laveau was the most famous. She was well aware of the sensational nature of voodoo rituals and very entrepreneurial by nature charging admission for the public to witness her rituals. Death did not distill her power and to this day people flock to her grave to leave gifts and ask for favors.
Dreamgirl Women's Sexy Voodoo Priestess Costume

The Dreamgirl Voodoo Priestess costume is a very sexy four piece outfit. The dress has foam padded underwire cups accented with skull print fabric, an animal print panel down the front, a high cut jagged hemline and a sash adorned with feathers. The costume also includes a matching feathered headpiece, bone necklace and animal print arm wraps. Available in Small, Medium, Large and Extra-Large.
For more Voodoo Queen costume options, props and make-up ideas check out Voodoo Priestess Costumes. If you'd like to become legendary Voodoo Queen Marie Laveau please visit Marie Laveau Costumes.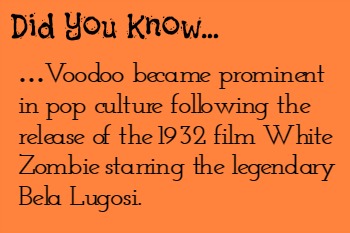 Voodoo Costumes: Witch Doctor / Voodoo Priests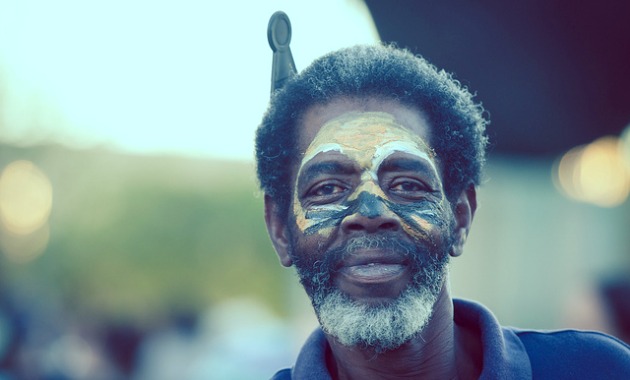 Historically Witch Doctors have been healers and shamans that treated conditions that people believed were caused by witchcraft. Louisiana Voodoo Priests, also called Voodoo Kings, were popular during the 1900s. Although derived from Haitian Vodou, Louisiana Voodoo Priests are very different from Haitian Witch Doctors. Despite the differences pop culture uses the terms interchangeably.
Detailed Witch Doctor Hat with Dreads

A top hat is a must have for any Voodoo Witch Doctor costume. This hat is detailed with patchwork, faux fur, and dreadlocks attached. Pair this with a bone necklace, jacket or cape and a skull mace and you've got yourself an awesome Witch Doctor costume.
For more Voodoo Priest costume ideas, props and makeup tutorials, check out Voodoo Priest / Witch Doctor Costumes.
Voodoo Costumes: Voodoo Dolls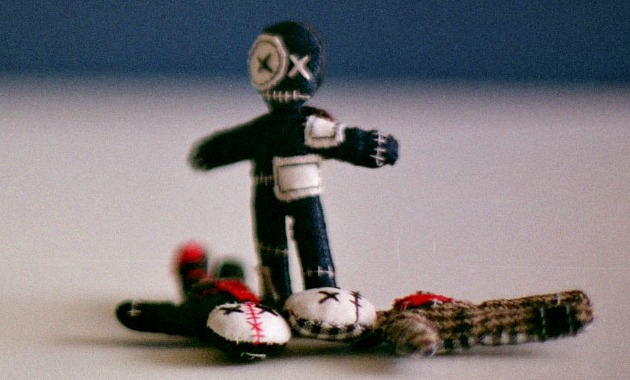 The Voodoo Doll is one of the most popular aspects of Voodoo depicted in horror movies. Although the dolls originated from Haitian Vodou, inflicting pain was not the original intent. Their nature has been sensationalized along with the rest of New Orleans Voodoo and now it's virtually impossible to mention the word 'Voodoo' without the image of someone sticking pins into a Voodoo Doll.
Sexy Voodoo Doll Costume Dress

The Starline Voodoo Doll costume is a quirky and sexy costume for women. The outfit consists of a tan and black faux suede dress with tattered hem and embellished with stitching. The puffy straps, matching cuffs and hair bow are all embellished with novelty pins. To complete the look you'll need to purchase black fish net stockings.
For more Voodoo Doll costumes (including DIY options) and both scary and sexy makeup ideas, please visit Voodoo Doll Costumes.
Learn More About Voodoo
The Essence of Vodun, Vodou and Voodoo. This is a very informative site detailing how Vodou and Voodoo were derived from Vodun due to slavery and oppression.
Bloody Mary's Tours. This is a very informative website with all sorts of educational facts and goodies about the history of New Orleans Voodoo and rituals.
Marie Laveau's House of Voodoo. This is a great site with lots of information about Marie Laveau, her tomb and Voodoo in New Orleans. Be sure to check out the other articles under the 'Voodoo News' section.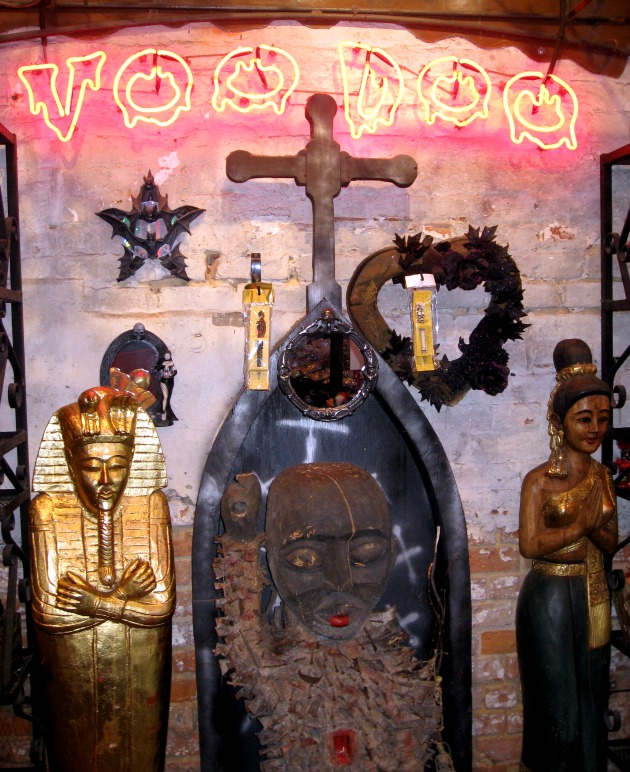 Have a spooky Halloween!
Images:
Voodoo Potions sign – photo by WendEwho! Thompson, used under CC 2.0.
Tribal Voodoo Doll – photo by Timothy Tolle, used under CC 2.0
New Orleans Voodoo Priestess – photo by Infrogmation of New Orleans, used under CC 2.0.
Witch Doctor / Voodoo Priest – photo by thepipe26, used under CC 2.0.
Voodoo Dolls – photo by Lemuel Cantos, used under CC2.0.
Voodoo Exhibit – photo by Jared, used under CC 2.0.