Voodoo Priest or Witch Doctor costumes are striking and impressive for Halloween. But one of the first things you will have to do is decide which interpretation of Voodoo priest you are going to dress up as: tribal Voodoo Priest or Louisiana Voodoo Priest.
Most of the pre-made costumes on this page are based on the concept of Louisiana Voodoo but you can easily use some of the prop ideas and videos to put together a fabulous costume no matter which way you choose to go with your Voodoo costume.
Voodoo Priests and Witch Doctors

In pop culture the names 'Voodoo Priest' and 'Witch Doctor' are used interchangeably. But, in actuality a Voodoo Priest is a holy man within Voodoo/Vodou as a religion and a Witch Doctor is an African or European shaman or healer, a person who helps protect against witchcraft, evil spirits and magic.

There are some who feel there is no problem using the two names synonymously and others who take great offence to being called a Witch Doctor.
Some Voodoo Terminology
Here are some Voodoo definitions to help you get into the spirit for Halloween:
Hoodoo: Folk magic derived from the combination of West African, Native American and European Pagan spiritual practices. Although distinct from Voodoo, elements of Hoodoo are incorporated into Louisiana Voodoo.
Loa: Spirits that are worshiped and called upon during rituals. There are many different spirits in both Haitian Vodou and Louisiana Voodoo.
Baron Samedi: The loa of the dead in Louisiana and Haitian voodoo. Master of souls and giver of life, this deity can help bring good health, reverse serious illness, and prevent the dead from rising as zombies. He is often depicted with a black top hat, black tuxedo, skull face and dark glasses. Often obscene and disruptive, he has a fondness for tobacco and rum infused with hot peppers.
Ready Made Voodoo Priest – Witch Doctor Costumes
Baron Samedi Halloween Fancy Dress Costume

The Baron Samedi Voodoo Costume has four pieces including a skeleton printed shirt, black trousers, a black jacket accented with white cuffs, trim, buttons and a white faux handkerchief in the breast pocket, and finished with a black top hat accented with white trim, a white skull and a black feather. The skeleton gloves and skull staff aren't included but can be purchased separately. Makeup not included (but see the skeleton makeup tutorial further down). Available in Standard and Extra Large.
Smiffy's Voodoo Man – Voodoo Priest Costume

If you're looking for a witch doctor costume that includes a mask then this is the costume for you. The Smiffy's Voodoo Man costume comes with the long black jacket, the top hat with skull mask, the hair, the skull necklace and the head on a stick prop. In order to complete the costume to look like the picture you will need to add black pants, a skeleton shirt and skeleton gloves. This costume is available in Medium (chest 38-40″, waist 32-34″, arms 32.5-33″)
Create Your Own Voodoo Witch Doctor Costumes
If you'd rather piece together your own costume then there are some awesome accessories to help create a bone chilling look. Start with black pants and either a black jacket or a cape. Then add a skeleton shirt.
Faux Real Photorealistic Skeleton Shirt

Unzipped Skeleton Shirt with Gothic Designs

These are two of my favorite picks for long-sleeve skeleton shirts. The first shirt isn't a true black, it's a grey-black, but what makes it super cool is the realistic skeleton design. The bones are a creamy color and shaded, and you can see through to the back of the rib cage.
The second design is a cool alternative to the standard skeleton shirt. It's a t-shirt that's printed to look like a hoodie. The outside of the 'hoodie' is printed with a gothic pattern and unzips to reveal a skeleton rib cage. The arm bones are printed on the sleeves with an airbrushed appearance.
Either of these shirts would be great for your Voodoo witch doctor costume and cool to wear after Halloween as well.
Witch Doctor Hat with Dreads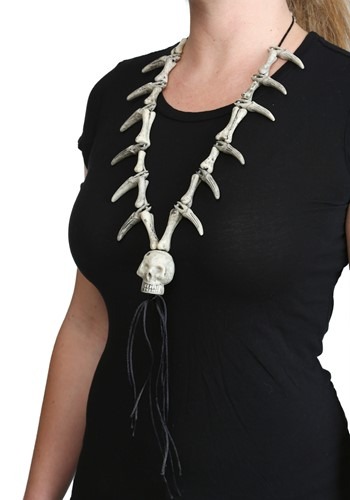 Spooky Bone, Teeth and Skull Necklace

A top hat projects authority and therefore is a must have for your Voodoo Witch Doctor Costume. The hat shown above is fully lined and has brown patchwork detailing, a lynx fur and feather band accented with faux alligator teeth and a set of attached dreadlocks. The hat even has a secret pocket and is adjustable with a velcro size adjuster.
Some spooky jewelry, such as the bone, tooth and skull necklace shown above, helps create a menacing look.
Voodoo Skull Staff

Voodoo Prop – Mini Shrunken Head

To show you really mean business you need to either carry a mancing skull staff or a hanging shrunken head or two. You know, show people not to mess with you. You can either buy pre-made props such as the ones shown above or make your own.
To make your own skull props check out these two awesome tutorials:
Jeremy Edsall's Paper Mache Skull Tutorial. This is a set of three videos by a paper mache artist that create a realistic and spooky looking skull. This could look very cool on top of a voodoo mace.
Spooky Blue's Paper Mache Skull Tutorial. This super cool tutorial does require the use of a resin skull as a model but the result is highly realistic. If you use a small skull and give it a layer of grotesque modeling clay 'skin' it will look like a shrunken head.

Witch Doctor – Voodoo Priest Makeup Ideas

If you're going to dress up for Halloween then you've got to go all the way. Here are four Voodoo Witch Doctor makeup tutorials to get your creative juices flowing:

Video 1: A tribal look for an African Voodoo Witch Doctor costume.

Video 2: This is a lot of work but looks phenomenal! A red, black and white painted look with third eye and bones along the throat.

Video 3: Makeup tutorial for the Witch Doctor from Diablo 3.

Video 4: Skull makeup tutorial. Great if you want to dress up as Baron Samedi.


Loading Videos...

Happy Halloween! Now go out and shrink some heads.

Image: Skulls, Public Domain Image from Pixabay

Updated: October 16, 2017