When Halloween rolls around one of the greatest pleasures of motherhood is coming up with a Mom and baby Halloween costume.
I didn't do a mom and baby costume with my daughter and regretted it. I got a second chance last year with the birth of my son. Being obsessed with Dalmatians it only made sense to dress up as Cruella de Vil with one adorable Dalmatian pup.
If you're looking for ideas for your mom and baby Halloween costume I'll show you how I created our look as well as other ideas for creating your Cruella de Vil costume and your baby's Dalmatian pup costume.
When it comes to creating your Halloween look you can either buy a ready-made costume or put together an outfit with some bought pieces and/or some DIY pieces.
Dalmatian Pup Baby Costumes
A complete ready-to-go costume is no doubt the fastest option. But, success with this sort of costume depends on the age and size of your baby.
Unless it's a bunting costume you may find most ready-made costumes too large for a newborn. Be sure to carefully check out the sizing options. If they are too large for your brand new baby you can always try a Dalmatian print bodysuit or romper.
Ready-Made Dalmatian Baby Costumes
This baby Dalmatian pup costume is adorable. The one piece jumpsuit zips up the front and has a character hood complete with nose, whiskers and ears.
Available in 4 sizes: newborn – 6 months, 6 – 12 months, 12 – 18 months and 18 – 24 months. A detailed sizing chart is available through the link.
DIY Dalmatian Baby Costume
My son was five months old at Halloween and I decided to do a semi-DIY option.
Dalmatian Print Baby Pant, Hat and Onesie Set

This is the dalmatian print set that I started with. The little hat with ears was adorable and the pants were perfect. I gave the onesie to my niece and bought a pack of white long-sleeve onesies. (I bought a size up so I could fit my son's hoodie underneath the onesie.)
Then I set to work with a paint brush and some black fabric paint.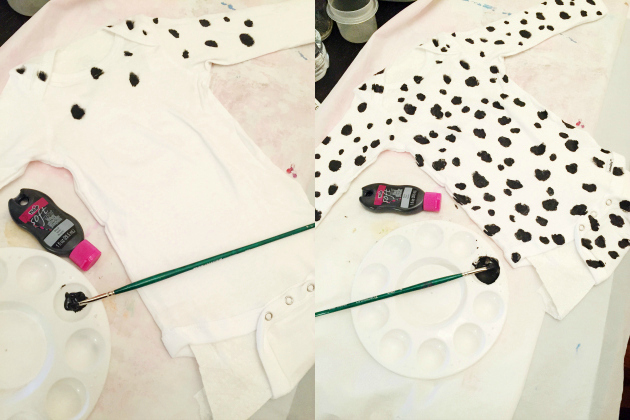 It's a good idea to put a layer of paper towel inside the bodysuit to prevent the fabric paint from soaking through.
Working from one side to the other and from top to bottom gently brush in the paint in a circular motion. Do the first side and let dry, flip over and then do the back.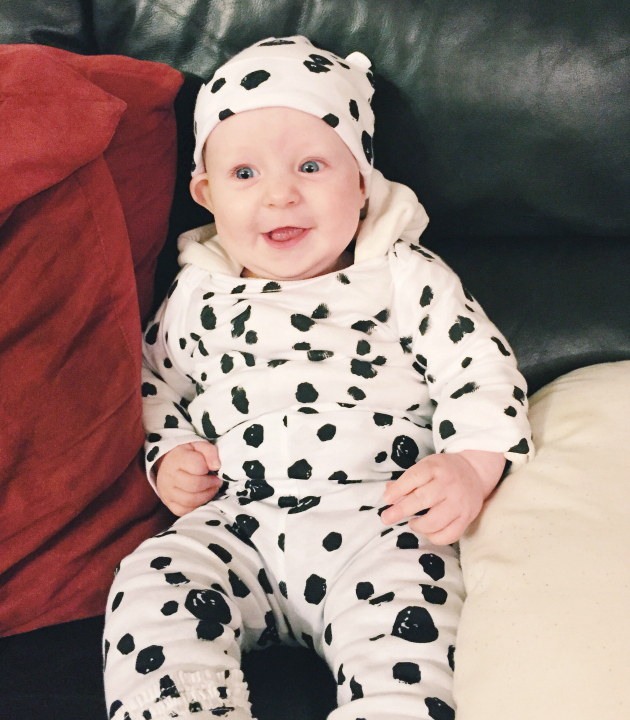 Isn't my little Dalmatian pup a cutie?!!!
Cruella de Vil Costumes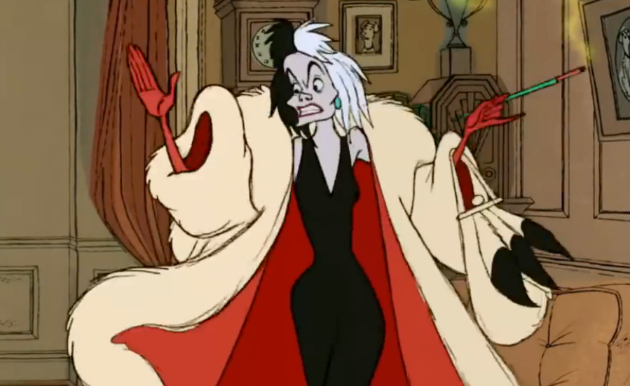 Disney villain Cruella de Vil is a lot of fun to dress up as for Halloween. There are some fun ready-made Cruella inspired costumes and lots of ways to put together your own costume.
As you can see from the above screen capture in the original movie Cruella wears a black dress, has a black and white coat with red lining and wears red gloves (she also has red shoes) and smokes a cigarette with a cigarette holder.
If you incorporate black, red and white into your costume in any combination you are good to go. Although Cruella didn't wear any Dalmatian print in the movie since she never got her new fur coat, I think that including Dalmatian print somewhere in your ensemble is a great idea.
Ready-Made Cruella DeVille Costumes
Smiffy's Women's Evil Madame Costume Dress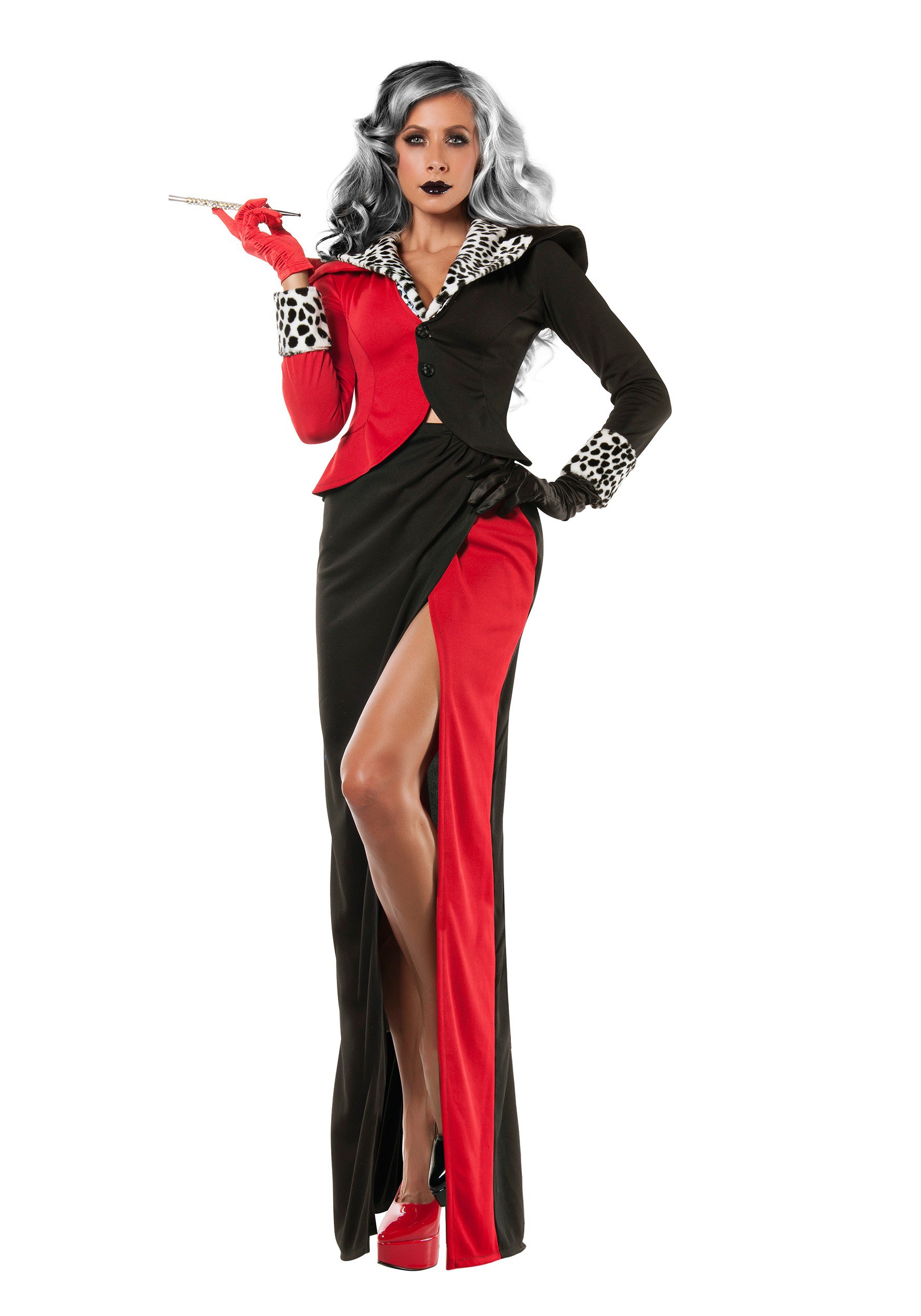 Cruella de Vil Inspired Costume (wig not included)

The Smiffy's Evil Madame costume channels Cruella through a little black dress, a Dalmatian print shrug and cuff, red gloves and black choker. The cigarette holder and wig must be purchased separately. Available in Small, Medium, Large and Plus-Size.
The Cruel Boss Lady costume is a fun twist on the idea of Cruella. The outfit includes a black and red skirt with high thigh slit and a coordinating black and red top with Dalmatian print trim and red gloves. All you need to do is add a black and white wig and cigarette holder and you're good to go. Costume available in x-small through x-large and also available in plus sizes.
Long Cruella de Vil Two-tone Wig
Short Black/White Cruella deVille Wig
The Leg Avenue long black and white wig is the Cruella de Vil wig that I wish I had bought. So beautiful and glamorous!
Rubie's does a shorter and less expensive two-tone wig that would also work well.
Add Cruella's cigarette holder to your costume. You can easily re-use this prop over the years for any vintage look such as a 1920s flapper.
DIY Cruella de Vil Costume
To create your own look raid your closet and start off with either a top and pants or skirt or a dress. You can go all black or mix it up and go black and red. I wore a long sleeve black t-shirt and black leggings.
Next you need Cruella's iconic black and white locks. Buy a wig online or see what your local dollar store has in stock.
You need a coat. You could go Dalmatian print for this or you could wear a white or black faux fur coat. I have a red trench coat so I wore that.
Dalmatian Print Fleece Hat, Scarf and Gloves Set

Gloves are an important part of the look. You can use this as an opportunity to work in the color red or Dalmatian print. I bought a fleece Dalmatian print scarf and gloves set to complete my look.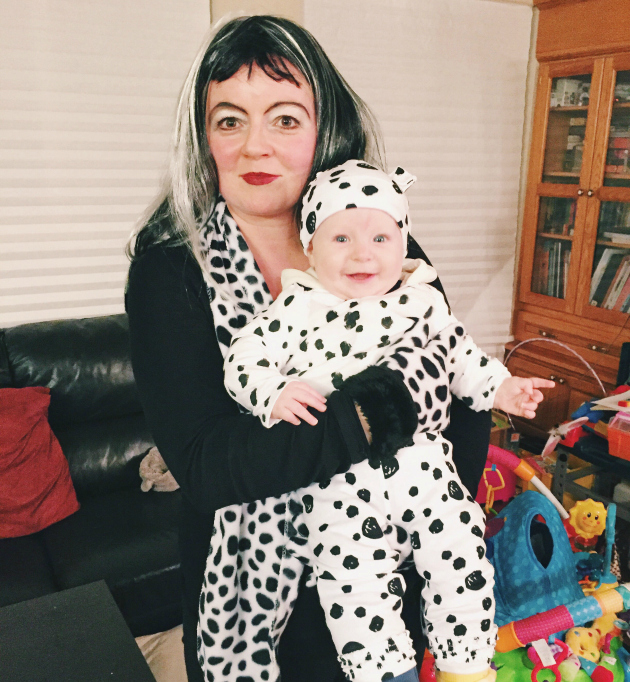 Here we are, Cruella de Ville and her little Dalmatian pup.
Cruella DeVille Makeup Ideas
Looking for some Cruella de Vil makeup ideas? I've included a couple of really cool video tutorials.
If you're like me and don't have a lot of time then you can create an easy Cruella look by doing just a few things.
Bright green eyeshadow. I used khaki green and it wasn't as dramatic, bright green is better. I also used white up to my brow line.
Dark arched eyebrows. Use a black eyeliner to define your eyebrows.
Bright red lips.
If you have a bit more time then check out these more detailed looks:
Video 1: A glamorous Cruella de Vil makeup tutorial that's pretty easy to do.
Video 2: A more involved tutorial that includes covering up your eyebrows and drawing in dramatic high-arching eyebrows.
Video 3: This is the video that accompanies Video #2. It shows you how to cover your eyebrows so you can draw in the high arching eyebrows shown in Video 2.

Loading Videos...
Happy Halloween!
Images: Cartoon images are screen captures from 101 Dalmatians and are Fair Use, all other photos by Isle of Halloween.