Are you looking for last minute easy Halloween costumes for adults? Something that's cheap and easy? Well we've got you covered. Sometimes you are just too busy to put a costume together in advance and end up scrambling at the last minute – or skipping Halloween all together. That's a shame and totally not necessary.
Read on for some last minute Halloween costume ideas that are easy to create. I've put together a selection of costume ideas ranging from scary to cute and silly.
On this page you'll find fun looks that you can put together using items from your own closet, items from thrift stores or your local dollar store. If you don't have time to go shopping, I've included some items from Amazon and reputable online Halloween stores to help create these costumes.
Scary and Easy Halloween Costumes for Adults
Easy Witch Halloween Costume Ideas
What You Will Need:

Black Clothing
Witch Hat
Broomstick (optional)
A witch is a great default costume if you are short on time (or if you simply just love being a witch – I have been a witch several times). Simply comb your closet for anything black. For some people, such as myself, this will be pretty easy. If you don't have too many black articles of clothing, a quick trip to your local thrift store will remedy the situation.
Consider black leggings or flare pants with a black top and black flowing cardigan, plus add a snazzy belt. Or, you can go with a flowing black skirt instead of pants. If you don't have a 'flowing' cardigan or sweater, you can wear a hooded cape.
Select a broom from your closet and add a witch hat. You can usually find basic witch hats at your local dollar store. There are also some stylish witch hats available from Amazon.
If you plan to wear a skirt, a pair of striped witch socks and pair of black buckled witch shoes add a fun yet realistic element to your costume.
Cool Witch Hat With Spider

Wild'n Witchy Socks Accessory

---
Easy Warlock Costume for Men
What You Will Need:

Black Clothing
Black Cape
Magic Staff
A warlock costume is a super easy halloween costume for men. All you have to do is dress in black, add a cape and a staff. Check out your local dollar store for cheap props, or you can also get a great full length black cape from Amazon. Spirit Halloween has an awesome stacked skull staff that is exclusive to their collection.
Full Length Black Warlock Cape

Stacked Skull Staff – 36″ metal staff with polyresin skulls – Warlock CostumeCheck Availablity
---
Scary Costumes Based on Classic Horror Films – Cheap, Easy Halloween Costume Ideas for Adults
Chucky from Child's Play ~ Leatherface from The Texas Chainsaw Massacre ~ Carrie from Carrie ~ Samara from The Ring ~ Jigsaw from Saw
---
DIY Marion Crane 'Psycho' Costume
Shower Curtain
Nude-colored slip or other undergarments
Fake Blood
Go out this Halloween as Marion Crane, the lead character who was famously murdered in the shower in Alfred Hitchcock's 1960 classic film Psycho. This scary costume is really easy and will get lots of compliments.
Wear a flesh colored slip or tank top and lycra shorts. Add a shower curtain – check out the Gods and Goddesses costume videos below to learn how to tie a toga.  This will help you create a wearable shower curtain look. Then add some fake blood.
If you'd like to know several easy and effective ways to make your own fake blood, check out this awesome page for eight recipes.
---
Easy DIY Vampire Costume
What You Will Need:

Black Clothing
Fangs
Black Cape (optional)
A vampire is another really great and really easy Halloween costume if you are short on time. Just dress in black, add a cape, some fangs and perhaps a stream of blood along your lips.
You can be a generic vampire, or add a few props to become a specific TV vampire:
Get a cheap toy amulet from a dollar store and wear a short peroxide blonde wig (or, if you're really feeling adventurous and want a new hair style, go for a Billy Idol look) and you can be Spike from Buffy the Vampire Slayer.
Wear a vintage suit, purr "Sook-eh" and you're True Blood's Bill Compton.
Guys, wear an unbuttoned shirt, smear your chest with body glitter and you have a DIY Twilight Edward Cullen costume
You can also dress in black, carry around a wooden stake and you're a vampire hunter.
54″ Lined Deluxe Vampire Cape – Red and Black

Gorywood CROSS and Vampire Bite Temporary Tattoos

---
Grim Reaper – Easy Halloween Costumes for Adults
Black Clothing
Black Cape
Plastic Scythe
Skeleton Mask (or face paint)
Skeleton Gloves
The Grim Reaper is another easy Halloween costume idea using your black clothing. Add a hooded cape, a mask, a pair of skeleton gloves and a plastic scythe and your can go out and claim the souls of the dead.
Little Adventures Deluxe Black Adult Cloak with Hood (One Size)

Grim Reaper Scythe – Glows In the Dark, 40″ tall, 14.5″ blade

UrbanSource Black Seamless Skull Face Tube Mask BUFF

BudK Skeleton Mechanic Gloves- Large, heaby duty

If you'd rather not wear a mask, try using makeup to create your Grim Reaper look. This does take some time but the effect is incredible!
---
Easy Halloween Costumes for Adults Using Sheets
Greek or Roman Gods and Goddesses – Cheap, Easy Halloween Costumes
What You Will Need:

Bed Sheet
Sandals
Belt (optional)
Make a quick god or goddess Halloween costume from a cheap bed sheet. The videos below will teach you how to fashion your own toga from a bed sheet. You can keep this costume simple or embellish with trim. You can also make a wreath out of spray painted plastic ferns and floral wire. You can also adapt this look to be Caesar, or, if you paint your face white you can be Caesar's ghost.
Ladies, for ready-made costumes as well as goddess hair and make-up tutorials, check out my Sexy Goddess Costumes page.

Loading Videos...
---
DIY Ghost Costume Using a Sheet
White Sheet
Safety Pins
Scissors & Pencil
A ghost costume is really easy. Just buy a really cheap white sheet, carefully make your eye holes and presto, you're a spooky ghost.
---
Cute & Silly Easy Halloween Costumes for Adults
DIY Crayon Halloween Costume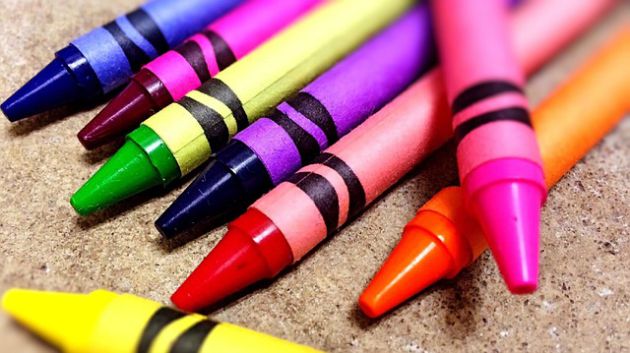 What You Will Need:

Same color top and pants
Party hat
Shoe covers
Spray Paint
Paper and Pen
A Crayon is a very cute and easy Halloween costume idea. Simply choose a top and pants (same color), add a party hat (spray paint if you can't find a hat that matches your clothing), spray paint some shoe covers to match, and make a 'Crayola' sign to tape or safety pin to your shirt.
This is also a great group Halloween costume idea.
What color will you be?
---
Land of the Missing Socks – Super Cheap & Easy Halloween Costume
A top and pants
Safety pins
Assorted mismatched socks
Simply safety pin an assorted mix of mismatched socks onto your clothing and you become "The Land of the Missing Socks". You know, the place where all our missing socks go.
Didn't you ever wonder where they all got to?
---
The Milky Way – Last Minute DIY Halloween Costume Idea
What You Will Need:

Black Clothing
Paper, scissors, tape
-or-
Glow in the dark stars, fabric pen, glue gun
Be the Milky Way (or any galaxy of your choosing) with this cute Halloween costume idea. If you plan to re-use your clothing, then I would recommend cutting out stars and taping them to your shirt. Otherwise, buy a cheap black shirt and use a glue gun to strategically place glow-in-the-dark stars all over your shirt.(Note: Don't glue on the stars while wearing the shirt. Use a white fabric pen to mark the placement of stars in advance).
4M Glow-In-The-Dark Moon and Stars – 1 Moon/12 Stars

---
Even More Easy Halloween Costumes for Adults
These range from clever to silly but I think it's always a great idea to look at a variety of last minute Halloween costume ideas to help your creativity flow.
Hope you've found your ideal last minute diy Halloween costume. Happy Halloween!
Images:
1) Halloween Witch, Public Domain Image from Pixabay.
2) Psycho Collage: Bates Motel photo by Roman Soto via Flickr used under CC2.0, Bloody Shower Curtain photo by TJStamp via Flickr used under CC2.0.
3) Grim Reaper Holding Cards, original artwork by Travancore, used under CC3.0
4) Ghosts, courtesy of MorgueFile
5) Crayons, Public Domain Image from Pixabay
6) Mismatched Socks, courtesy of MorgueFile