Halloween desk decorations are an awesome way to show a little Halloween spirit while at the office. Depending on your desires (and of course the office rules) you can choose to decorate just a little bit or go all out this Halloween.
There are lots of things that you can do to decorate your desk and office space. Incorporating creepy Halloween symbols such as pumpkins, black cats, bats, spiders, cobwebs, tombstones, monsters or zombies is a great way to create Halloween atmosphere. You can either make something yourself or buy ready-made decorations. There are lots of fun and spooky desk accessories designed just for Halloween.
Read on for some spooky and fun Halloween desk decorating ideas.
Quick and Easy Halloween Desk Decorations
Spooky cobwebs and spiders are quick, easy and inexpensive. You can either purchase a ready-made kit that includes the webbing and spiders or your can make your own cobwebs. You can either make them by pulling apart cotton balls and spraying them with hairspray or spreading out and cutting up cheesecloth. You can buy cheap plastic spiders from your local dollar store.
Tombstones can be made quickly and easily with construction paper and a sharpie pen. If you want to get more elaborate you can make very detailed tombstones out of cardboard, wood or styrofoam.
Halloween Police Tape. There are many types of crime scene tape that you can buy from a dollar store or Amazon from anywhere between $1 to $5 a roll. Some say 'Crime Scene Do Not Cross', others say 'BioHazard' and some say 'Caution' with skulls and crossbones.
Halloween Lighting is a great way to make your desk spooky. You can either go with flameless candles or a set of indoor lights in Halloween colors.
Halloween Garlands are fun to hang over or around your desk. You can either buy a ready-made garland or make your own. Check out this cool bat garland tutorial.
Awesome Halloween Desk Accessories
Vampire Business Card Holder
The Vampire Card Holder is a cool Halloween desk decoration that you can use to give customers or business associates a fright. Use it to hold your business cards or a 'Help Yourself' sign for your Halloween candy bowl.
Black Cat Tape Dispenser
Let the cat out of the bag with a Black Cat Tape Dispenser. This cute Halloween (or any time of the year for a cat lover!) tape dispenser has green eyes and you tear the tape between the ears.
The back end of the tap dispenser has been weighted down so that it won't tip over guaranteeing that this desk accessory is not only cute but also very functional.
Ensure that a black cat crosses your path this Halloween.
Zombie Pen or Pencil Holder
Impaled Zombie Pen or Pencil Holder

If you have a flair for the dramatic then you'll love this Impaled Zombie Pen or Pencil Holder. This very detailed zombie desk decoration is writhing in pain because he has been pieced by a pencil. Note that he is wearing a suit…tell your boss if they make you work overtime again this is what will happen to you (just kidding!).
Spooky Halloween Candy Bowl
Even though ghosts and ghouls are an important part of Halloween, nothing says 'Halloween' more than candy. Having a candy bowl at your desk for you and your co-workers is an excellent way to get into the Halloween spirit. This Spooky Skull Candy Holder is the perfect holder for your yummy Halloween morsels.
If you don't want to do the candy bowl thing then you could use it as an accent piece or you could use it to hold your keys, flash drives or other bits and pieces.
Halloween Decorations for Your Computer
Spooky Computer Shelf Sitters
See No Evil, Hear No Evil, Speak No Evil Zombie Computer Shelf Sitters

A set of Zombie Computer Shelf Sitters could add a seriously spooky effect to your office cubicle. The three zombie dudes are very detailed with tattered and bloody clothing, decaying flesh and bits of bone peeking through. These little fellas are so life-like you may keep thinking you hear them calling out for brains….
Halloween Mouse Pads

Universal Monsters Halloween Mousepad by Sasha Alexandre Keen via CafePress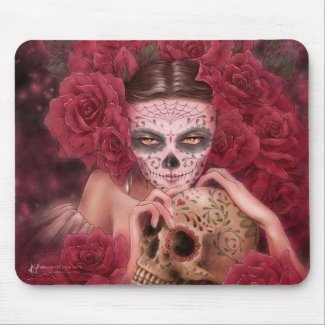 Dia de los Muertos Day of the Dead Mousepad by MiyabiLine via Zazzle

A Halloween mousepad is just the thing to create some extra Halloween atmosphere at your desk. Both Zazzle and CafePress, two print-on-demand companies that feature products by thousands of artists, have a great selection of Halloween mousepads from cute to spooky to funny.
The Universal Monsters mousepad by Sasha Alexandre Keen is available for purchase from CafePress. Illuminated in an eerie green light are Dr. Frankenstein's Monster (Boris Karloff), Count Dracula (Bela Lugosi), the Wolf Man (Lon Chaney, Jr.), Creature from the Black Lagoon (Ben Chapman) and the Mummy (Lon Chaney, Jr.).
Other Halloween mousepads at CafePress include a cool ouija board design, vintage bats, headless horsemen, black cats, pumpkins and owls. See more Halloween Mousepads from CafePress.
The pink Dia de los Muertos 'Day of the Dead' mousepad by MiyabiLine at Zazzle combines spookiness with elements of fantasy. Two very detailed sugar skulls are surrounded by roses to create a gorgeous looking mousepad.
Other Halloween computer mousepads at Zazzle include walking dead skeletons, spooky pumpkins, ravens, black cats and sexy witches. See more Halloween Mousepads from Zazzle.
Just for Fun…
Check out the Halloween desk decorations in this office cubicle. Complete with a haunted house diorama the person who decorated this cubicle won first place for their office Halloween decorating competition.
---
Featured Image: Haunted Cubicle by Peter & Joyce Grace, Used under CC 2.0 via Flickr

Updated: May 13, 2015