A Halloween wine and cheese party is a great party idea for adults. This could either be done for an office party or as a gathering at your home with friends.
In addition to wine and cheeses, you may want to include some dried fruits, nuts and deli meats. You may also want to include something sweet such as Halloween cookies, cupcakes or a bowl of Halloween candy.
You will definitely want some spooky decor and accessories to set your Halloween party apart from an everyday wine and cheese party.
Planning Your Halloween Wine and Cheese Party
If you're planning an office Halloween party then the Thursday before Halloween is a great time to host the event. It's near the end of the week but not on the Friday when many people may have other Halloween parties to attend. Also, having the party the week before Halloween leaves plenty of time for your employees to get their kids and homes ready for trick-or-treating.
If you're hosting a Halloween wine and cheese party for friends then your guest list will help decide when to plan the event. If your group is childless then why not have your party on Halloween? If you live in an apartment building then it could be fun to have a hallway Halloween party with your neighbours and give out candy to trick-or-treaters together. Otherwise, the Friday or Saturday before Halloween would be an optimal time to host your party.
Wine Accessories for a Spooky Halloween Party
The first thing you need to think about is how to present your wine.
Halloween Glow in the Dark Wine Bottle Labels

A set of Halloween wine labels will instantly transform your vintage of choice into Vampire Blood, Zombie Brain Juice or a Kiss of Death Elixir. The Morbid Wine Bottle Label Stickers come in a set of eight ghoulish labels that glow in the dark. The labels are 5″ x 5″ so you should be able to apply them over the existing wine label, or you could remove the current label first and apply the Halloween wine label directly to the bottle.
Grim Reaper Guzzler Wine Bottle Holder

A Halloween wine bottle holder is a cute way to display an unopened bottle of wine. The Grim Reaper Wine Guzzler Bottle Holder is a spooky yet cute holder for your wine. The 11.5 inch cold cast resin creature clutches the bottle for dear life and doesn't look like he's letting go any time soon. You may just have to pry the bottle out of his cold, dead hands…
Another important thing to think about is wine glasses. You can either purchase Halloween themed wine goblets for the occasion or you can use your regular wine glasses but dress them up for the event.
Zombie Sculptural Goblets for Halloween

The Toast of the Zombie Sculptural Wine Goblets certainly are a conversation starter. Each wine goblet is held by a decaying zombie hand that forms the base. This set of two wine glasses is very detailed and if you're having a small gathering then investing in a few sets would create a very spooky atmosphere.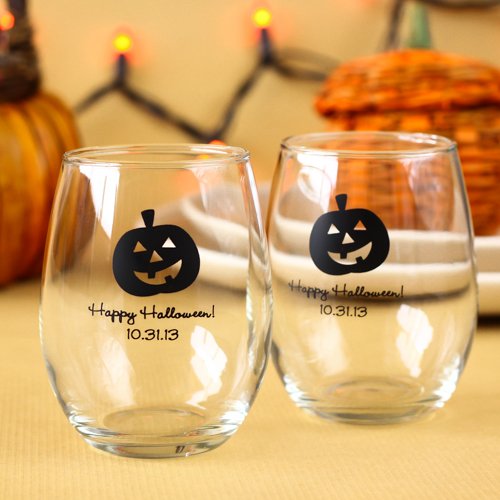 Personalized Stemless Halloween Wine GlassesCheck Availability
If you're having a larger party then you may want to check out the cute and reasonably priced stemless Halloween wine glasses from Beaucoup. These wine glasses can be personalized and would make a wonderful party favor. You can choose from eight spooky graphics (black cat, witch riding a broomstick, candy corn, jack o' lantern, bats, ghosts, spider webs and the words 'Trick or Treat') and have two lines available for a custom message.
If you're going to use your own wine glasses for the party then you can decorate them for Halloween with themed wine glass charms. The The Boston Warehouse "Happy Hauntings" wine charms are a set of six that include a vampire, pumpkin, black cat, Frankenstein's monster, a ghost and a bat. The charms hand painted and suspended from metal rings. If you have more than six guests then you can either order several of these sets or pair with a different Halloween wine charm set.
Halloween Themed Serving Trays and Utensils
Once you have the beverages sorted out then you want to think about how to present the food. A Halloween themed tablecloth might be nice or you could drape tattered black cheesecloth across the table for a more sinister look.
Halloween themed napkins and paper plates are an important part of your wine and cheese party. The Frightfully Fancy line of Halloween party supplies are striking with their bright orange and black colors and spooky black cats, bats, spiders, twisted trees and haunted houses.
You will need to have approximately 2-3 napkins per person per hour as well as two plates per guest. If serving dessert you may want to order one dessert plate per guest as well.
When presenting the food you want to make everything as easily accessible as possible. Your guests will be juggling their plates and wine glasses so pre-cutting hard cheeses into slices or cubes will make them easier to serve. A set of Halloween food picks are a cute way to decorate your cheeses and hors d'oeuvres with Halloween imagery including bats, ghosts, spiders and pumpkins.
Halloween Dip and Cheese Spreader Set

A set of Halloween spreaders would be really great for your dips and soft cheeses. This set of four stainless steel spreaders are 5 inches long and feature hand painted Halloween creatures. There is a vampire, a ghost, stacked pumpkins and a black owl.
If you're looking for an easy Halloween themed recipe for your party check out this cool Pumpkin Cheese Ball recipe. This gorgeous creation could easily be the center-piece of your buffet table.
Scary Silhouettes Halloween Serving Tray

You will need serving trays for all your cheeses and other goodies. The Scary Silhouettes serving tray is a 10 inch black plastic tray with a design that is reminiscent of a ouija board. A sinister pumpkin looks out and has the words "Trick or Treat" scrawled where it's mouth should be.
---
A final thing to consider for your Halloween wine and cheese party is whether or not you want your gathering to be a costume party. If you do want your guests in costume then consider planning a prize for the best dressed. This could be a Halloween themed item or you could give a gift card for coffee, a movie or a restaurant.
---
Featured Image: Original Image – Book, Wine and Candle, Public Domain image from Pixabay
Updated: May 11, 2015