Jurassic World costumes are going to be popular this Halloween.
When the film debuted in June they had a stronger opening week than inticipated bringing in $208.8 million in the U.S. making it the current record holder for opening weekend in history.
Set on Isla Nublar, the same island as the original Jurassic Park, the Jurassic World theme park has bigger dinosaurs and more up close and personal experiences (and scares) than its predecessors.
There are lots of cool Jurassic World based costume options and on this page we'll explore dressing up as Owen Grady, Claire Dearing, the T Rex and Indominus Rex. There are ready made costumes and several DIY options.
The officially licensed Jurassic World costumes are available for pre-order now and orders will be filled during September.
Cute couples costume ideas: One person could go as Owen Grady and the other as Claire Dearing. Alternatively one person could dress up as the T. rex and the other could dress up as a disheveled Claire holding a flare. Don't forget your heels.
Family costume idea: Mom and Dad could be Claire and Owen and the kids could dress up as dinosaurs.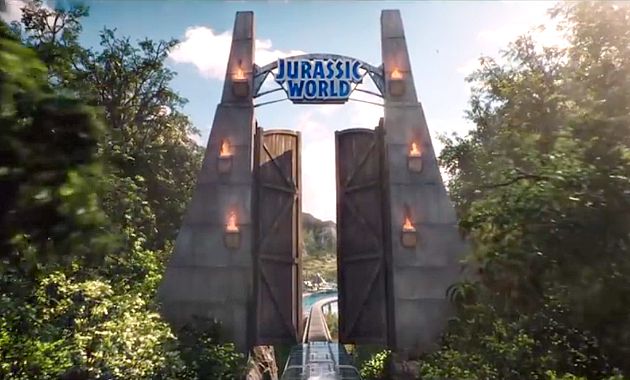 Owen Grady Costume
Owen Grady, played by Chris Pratt, is the protagonist of Jurassic World and he's definitely a badass. The trainer of Velociraptors (and their alpha) is eye candy for the female viewers and a role model for younger viewers. His character has become very popular even sparking trending Twitter memes with zookeepers adopting Owen's classic stance with the raptors.
Jurassic World's Owen Grady is an excellent Halloween costume.
Adult Owen Grady Costume – Jurassic World

Child Owen Grady Jurassic World Halloween Costume

&
The Owen Grady costume is an officially licensed costume made in both adult and kids sizes. The costume includes a pair of pants, a grey collared short sleeve shirt and a brown zippered vest with the Jurassic World logo on it.
The adult version comes in standard and extra-large sizes. The children's costume is available in small, medium and large.
Make Your Own Owen Grady Costumes
If you want to dress up as Owen, you'll need a pair of brown trousers and a belt, a grey short sleeve button down shirt and a brown vest. You'll need to let your facial hair grow out a little for a rougher look (for kids, Mom or Dad can use some brown face paint to smudge in some stubble). If you want you can add a few plastic velociraptors to the pockets of your vest.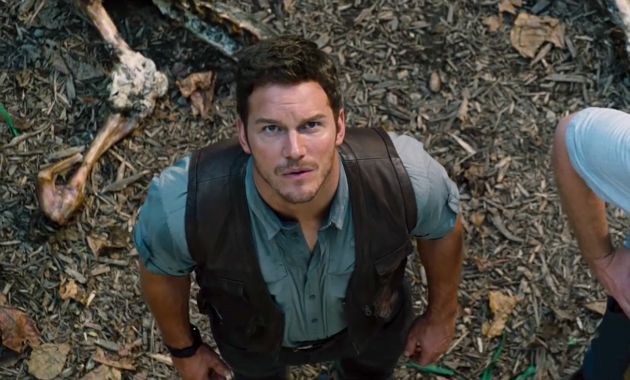 Jurassic World Costumes – Indominus Rex
Better watch out, there's a new beast in town. For better or for worse the genetically created Indominus Rex is here and this dino is unlike anything you've ever seen before. She's highly intelligent, she can disguise herself and her scales are white. Created from the DNA of multiple unknown dinosaurs and spliced with amphibian DNA the Indominus Rex is a scary dinosaur that makes an incredible Halloween costume.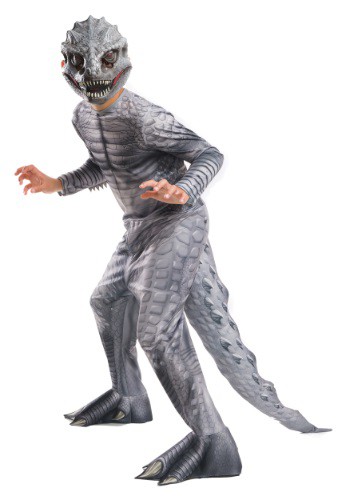 Child's Indominus Rex Costume – Jurassic World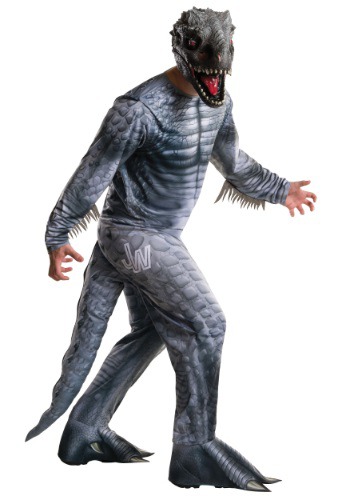 Jurassic World Adult Indominus Rex Costume

&
These Indominus Rex outfits are officially licensed Jurassic World costumes. Both the adult and child costumes are two piece sets that include a realistic latex 3/4 mask with red eyes and a jumpsuit. The jumpsuit zips up the back, has fringe extending from the arms, is colored to represent scales and flares out at the bottom to cover your shoes with dino feet and claws.
The children's costume comes in small (3-4), medium (5-7) and large (8-10) while the adult costume is available in standard and extra-large sizes.
Make Your Own Indominus Rex Costume
Since the Indominus Rex is a brand new dinosaur, there isn't much in the way of tutorials yet on the internet. But don't let that stop you. Browse the DIY T-rex tutorials further down and change up the colors to create your ideal DIY Indominus rex costume.
T-Rex Costumes
The T. rex was the original Big Bad in the earlier Jurassic Park movies. Although he's been cast aside by the bigger and badder Indominis Rex, the Tyrannosaurus rex still plays an important roll in Jurassic World. He (or she) is still a fearsome creature that boys and girls and adults too will love to dress up as for Halloween.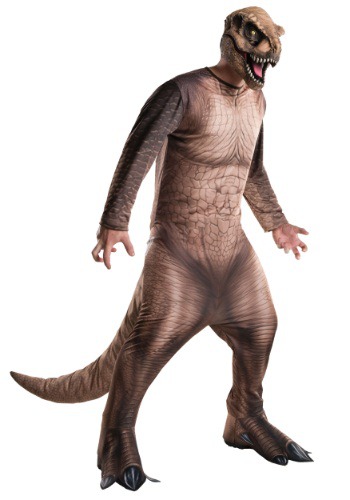 Jurassic World T Rex Costume – Adults

&
The T. rex costume is an officially licensed Jurassic World costume. The costume is a two piece set that includes a jumpsuit that zips up the back and has an attached tail. The fabric is colored to mimic dinosaur scales and the ankle flares out to cover your boots with realistic-looking dinosaur feet including claws. The costume also comes with a terrifying 3/4 mask with yellow eyes and big teeth to help transform you into this terrifying beast.
The Jurassic World T Rex Costume is also available in kids sizes.
Child's Inflatable T Rex Costume – Jurassic World

&
The inflatable T-rex costume is so much fun! This one piece costume has a Velcro closure and is inflated with a battery operated fan (required 4 AA batteries). This costume has a cutout for your child's face in the neck.
This awesome Jurassic World Inflatable T Rex Costume also comes in adult sizes. Rather than a cutout, the adult version has a vision screen in the neck.
Make Your Own T-Rex Costume
There are several ways to go about creating your very own Tyrannosaurus rex costume at home. Here are a few options ranging from cute to scary:
Claire Dearing Costumes
At the start of the movie Claire isn't a very sympathetic character. Typical Type A personality, she's all business and has little time for anything else. But as the stakes rise she proves to be feisty, brave and kind of a badass too.
There aren't any official Claire Dearing costumes, which is sort of a shame, but you can easily put together your own Claire costume.
DIY Claire Dearing Costume
There are two ways to go when dressing up as Claire. You can dress up as she was at the start of the movie, or after she goes through her character transformation during the movie.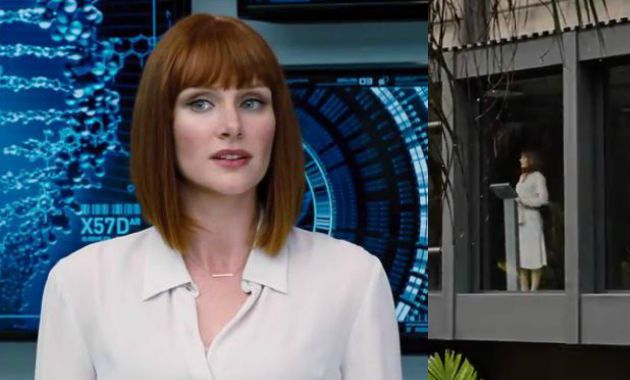 'All Business' Claire:
You'll need a 3/4 length white skirt, a white blouse, white belt, white blazer and high heels. Your hair should be flat ironed to perfection. You could always wear a wig if this isn't possible with your curls.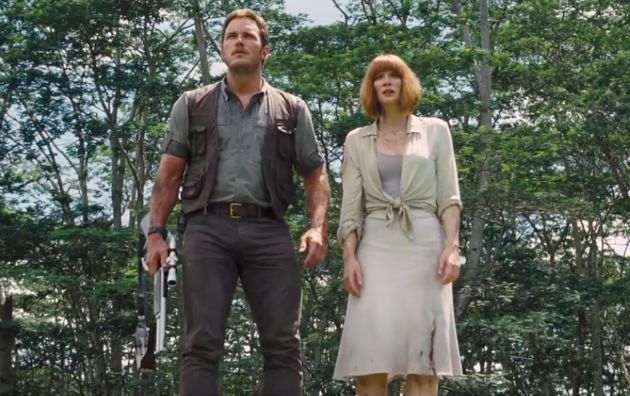 'Badass Dino-Fighting' Claire:
Running from dinos through the humid rainforest takes a toll on one's appearance. You'll need a 3/4 length white skirt that is torn and caked with mud or dirt. You'll need a tank top and a matted and dirtied blouse that you can tie at the waist. Your hair should be slightly curled and frizzy. If you have hair like mine, this isn't a problem. For straight hair check out this tutorial for adding frizz and volume. Amazingly you're still wearing your high heels.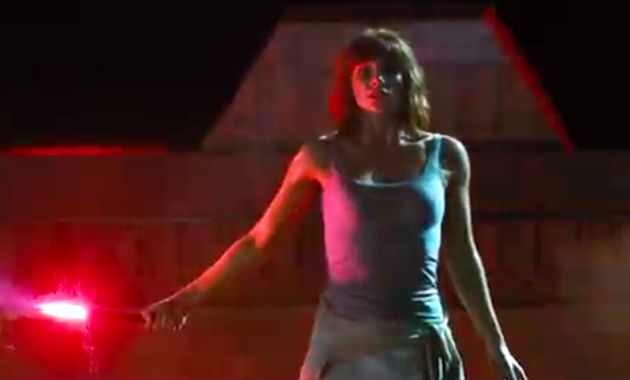 Which Jurassic World Costumes will you choose?
Images:
1) Tyrannosaurus Rex, Public Domain image from Pixabay.
2) All other photos are screen captures from the Jurassic World trailer and are Fair Use.
Updated: April 17, 2016