Scooby Doo gang costumes are a fun idea for either a solo costume or a group costume.
Ever since Scooby-Doo, Where Are You? premiered in 1969 people have fallen in love with the characters making Scooby Doo one of the most successful TV franchises of all time. Including the first incarnation there have been four movies and eleven animated series finishing with the 2010 series Scooby-Doo! Mystery Incorporated. In 2015 a new version of Scooby Doo called Be Cool, Scooby-Doo! was released and the gang was reinvented as hipsters.
Whether you're a fan of the original series or one of the later interpretations, dressing up as one of the gang is lots of fun and a great way to show your enthusiasm for this popular TV series.
No matter which member of the gang you choose to be you can either buy one of the officially licensed Scooby Doo gang costumes or make your own costume.
For extra credit (or just a great photo op) try accessorizing your costume with a cardboard Mystery Machine cutout.
Scooby Doo Gang Costumes – Scooby Doo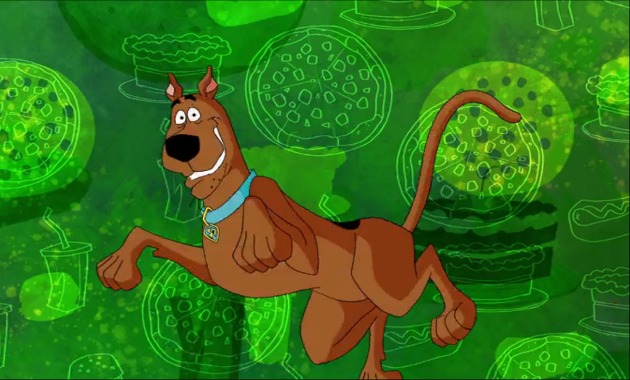 Scooby Doo, the protagonist of the series, is a special great dane that helps the gang solve mysteries. He is the companion of Shaggy Rogers and like Shaggy can be cowardly when facing the unknown. Never one to turn down a meal, he can be bribed with his favorite Scooby Snacks. He speaks in broken English and his catchphrases include 'Ruh-roh' (Scooby talk for 'Uh-oh') and 'Scooby-Dooby-Doo' (usually said after he has devoured someone else's food.
Scooby Doo costumes are available for everybody from newborn babies to plus size adults.
For older kids and adults the costume is a zippered jumpsuit with an attached hood that bears Scooby Doo's head on top. The costume is detailed with Scooby's blue collar and dog tag labeled "SD".
For infants the costume is in two pieces for easier dressing. The jumpsuit has snaps along the inseam for easy diaper changes and the headpiece secures under the chin.
Find Scooby Doo costumes for adults and kids.
Make Your Own Scooby Doo Costume
If you'd like to create your own Scooby Doo costume then you will need to start with a brown shirt and pants. Use a black marker to draw on Scooby Doo's spots. For the tail you can stuff a brown sock or one leg of a pair of tights. Alternatively you can buy some brown felt, sew it into a tube and stuff with cotton stuffing. Sew or safety pin the tail to your costume. Finish off the costume with a printable Scooby Doo mask.
Shaggy Costumes – Norville "Shaggy" Rogers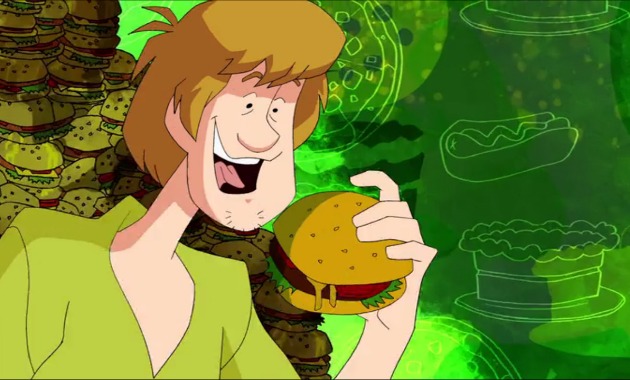 Shaggy Rogers is the owner and friend of Scooby Doo. They share a love of food and often have cravings that can rival any pregnant lady (chocolate covered hot dogs and liverwurst a la mode anyone?). When looking for clues the duo try to incorporate finding food and eating into their task.
Shaggy is the member of the gang that would much rather turn back when things get spooky but he is always outvoted and forced to face his fears. He says 'like' a lot and his catchphrase is 'Zoinks!' which he says when surprised.
Adult Shaggy Rogers 'Scooby Doo Gang' Costume

Shaggy costumes come in both adult and kids sizes.
Both the adult and kids Shaggy costumes include his green shirt, brown pants, a wig and a goatee.
The kids Shaggy costume comes in small, medium and large and there is a size chart to help you determine which size is best for your child. The adult costume is one size fits all.
Find Shaggy outfits for adults and kids.
Make Your Own Shaggy Rogers Costume
It's fairly easy to recreate Shaggy's look. Buy an over-sized lime green shirt and a pair of brown pants (bonus points if they're bell bottoms). If you've got brown hair then mess it up. Otherwise you may want to buy a short brown wig and mess it up a little like Shaggy. If you're an adult then grow a goatee. For women and kids you will want to draw on a goatee with Halloween makeup or even eyeliner.
Velma Costumes – Velma Dinkley Costume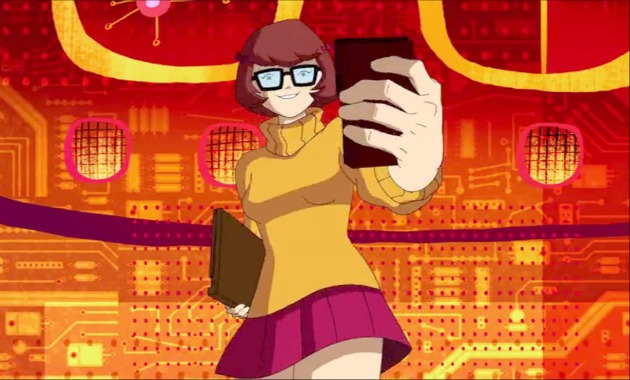 Velma Dinkley is the brains of the operation. She's gifted with computers and has a vast knowledge of science, history and the supernatural. She is usually the member who solves the mystery. She often says 'Jinkies!' when she finds a clue.
In the original series she is portrayed as somewhat androgynous but is given a make-over in Mystery Incorporated with a more form fitting top and red hair bows. Did you know that the reason Velma always wears a turtleneck is because she thinks she has a neck waddle?
Velma Dinkley Costume for Girls

The Velma costume is available for both kids and adults. The costume is a four piece outfit that includes Velma's orange turtleneck, red skirt, bobbed wig and glasses. You will need to purchase a pair of red knee socks and Mary Jane shoes to complete this costume.
The kids costume has pretty good reviews but the adult costume has mixed reviews. Check it out and decide for yourself.
For women wanting to kick the Velma costume up a notch, there is a very sexy version available that features a pleated red mini-skirt, thigh high orange leggings and an orange crop top with a strategically placed cutout at the front.
Find Velma Dinkley costumes for adults and kids.
Make Your Own Velma Dinkley Costume
It's pretty easy to put together your own Velma costume at home. You'll need an orange top, preferably a turtleneck, but you could get away with a long sleeve t-shirt. You'll also need a red skirt, red knee socks, Mary Janes or ballet flats and glasses. If you have a hard time finding clothing with the right colors then you can always buy white and dye them orange and red.
For the hair, you can either buy a wig or style your own. The following tutorial is a two-fer showing hair and make-up tips for creating Velma and Daphne's look.
Daphne Costumes – Daphne Blake Costume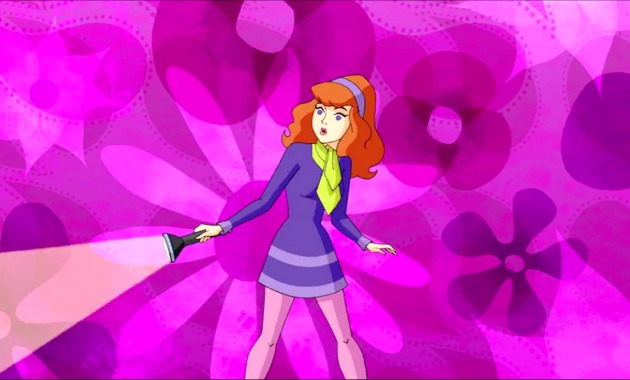 Daphne Blake has both beauty and brains. With the perfect hourglass figure, every woman wants to be her and every man wants to…err…well, you know. She comes from a very wealthy family and has a passion for purple attire. Sometimes called 'Danger-prone Daphne' she serves as the damsel in distress but often she is capable of getting herself out of danger.
Sexy Daphne Blake Costume for Women

There is an officially licensed Daphne costume available for both girls and women and there is also a sexy Daphne costume (shown) available for women.
The officially licensed costumes include a purple dress, green scarf, purple boot covers and red wig with purple headband. The sexy costume includes a two-tone form-fitting purple dress, purple headband and green scarf. You will need to supply your own boots and possibly purchase a wig.
Find Scooby gang Daphne costumes for adults and kids.
Make Your Own Daphne Blake Costume
For a DIY Daphne costume you will need to buy a purple dress and some lighter purple fabric or ribbon. Finding a long sleeve purple dress may be a tall order so you can also buy a long sleeve purple t-shirt and a purple skirt, or dye a white shirt and skirt. Cut thin strips of the light purple fabric (or ribbon) and sew them onto the hem of the skirt and the sleeve cuffs. Find a light green scarf and a purple headband. You can either wear a pair of brown or black boots, or if you want to go the extra mile then you can fashion a pair of purple boot covers. You may want to purchase a red wig or you can view the previous video for Daphne hair and make-up tips.
Fred Costumes – Fred Jones Costume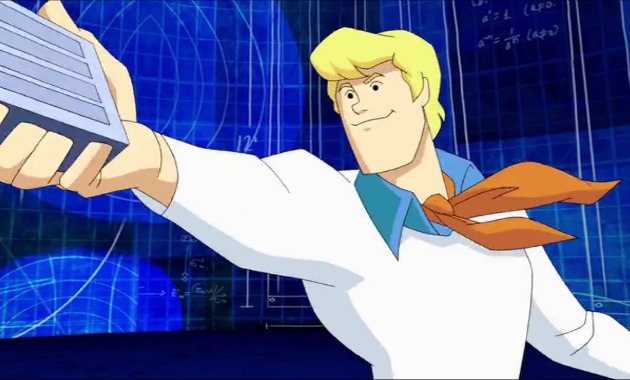 Fred Jones is the man with the plan. He is gifted with the skill of creating elaborate traps that sometimes go hilariously wrong but just as often go right and capture the bad guy. Fred often takes the lead in their cases and his catchphrase is 'let's split up and search for clues'.
Fred Jones Scooby Doo Gang Costumes for Adults

The officially licensed Fred Jones costume is available in both adult and children's sizing.
The costume includes a white collared shirt, blue pants, yellow wig and an orange scarf.
The adult costume is one size fits most which means up to a 42″ chest, 30 – 34″ waist and 33″ inseam. The kids costume is available in small, medium and large.
Find Fred Jones costumes for children and adults.
Make Your Own Fred Jones Costume
If you'd rather put together your own Scooby Doo Fred costume then start out with a white collared shirt with either long or short sleeves. Fred's shirt is actually white with a blue collar so you can either stick with a white collar or you can get creative and sew blue fabric onto your collar. Next you'll need blue pants, a pair of jeans will do. Fred wears a trademark orange ascot and you can either buy one from Amazon or you can substitute an orange scarf or an orange tie. You may want to add a blonde wig to finish off your look.
Which of the Scooby Doo gang costumes will you pick for Halloween?
Images: Screenshots from Scooby Doo: Mystery Incorporated
Updated: April 11, 2016