Zootopia is a family favorite for many and Officer Judy Hopps has captivated the imagination of many children. So it's no wonder your little ones may be asking for an Office Judy Hopps costume this Halloween. Or perhaps it's you that wants to transform into the determined bunny for a Halloween party, cosplay or as part of a coordinating family Halloween costume.
There are several options for you to choose from including complete Officer Judy Hopps costume sets for children and adults, fun accessories and some DIY costume ideas. Looking for makeup tips? There are three tutorial videos ranging from bunny face paint for kids to adult Judy Hopps makeup tutorials.
Happy Halloween!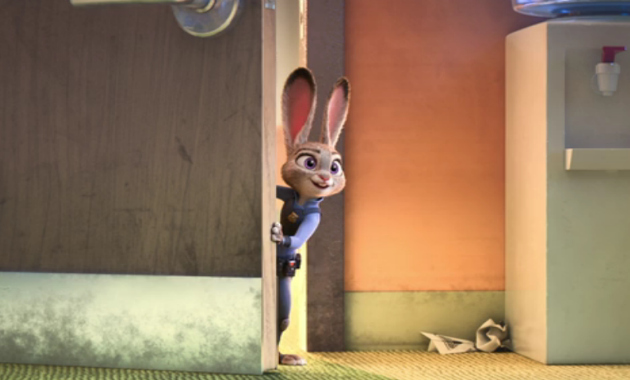 Ready-Made Officer Judy Hopps Costumes
Zootopia Officer Judy Hopps Costume for Kids

This Disney Officially Licensed costume includes a jumpsuit with attached vest, bunny tail and bunny headpiece. Available for kids in Extra-Small (3T-4T), Small (4-6X) and Medium (7-8).
Zootopia Judy's Carrot Recorder And Badge

No Officer Judy Hopps costume is complete without her trusty carrot recorder and badge. This carrot is not just a prop, it really works! Press the top button to secretly record the bad guys and the bottom button for playback. Both the carrot and badge easily clip to your costume.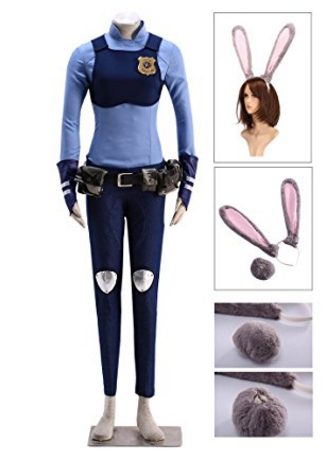 Women's Officer Judy Hopps Costume – Halloween or Cosplay

For women this deluxe Officer Judy Hopps costume is just the ticket (sorry, couldn't resist). The costume includes the shirt, vest, pants, badge, waist bag set, gloves, kneecaps, bunny ears and tail. Available in Extra-Small, Small, Medium, Large and Extra-Large.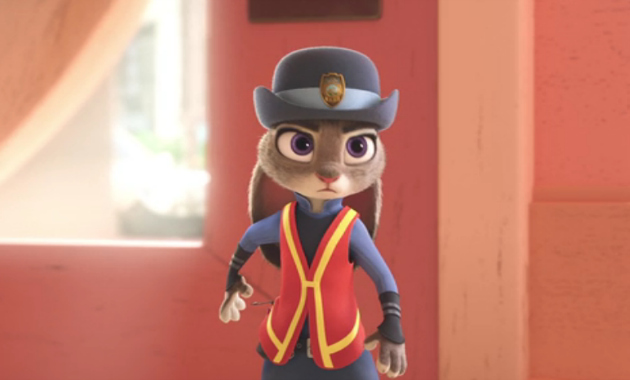 Make Your Own Officer Judy Hopps Costume
If you'd rather put together your own Zootopia Office Judy Hopps costume then here are a few DIY ideas:
Option 1: Re-purpose a Police Officer Costume
If you or your child have been a police officer for a previous Halloween then you're almost there. With a few handy accessories (such as the badge and carrot pen shown above) you're all set. Check out these cute Judy Hopps accessories:
Zootopia Office Judy Hopps Costume Hat with Ears

5 Piece Gray Bunny Rabbit Ears, Paws and Tail Set

Children's Costume Orange Safety Vest

The officially licensed Disney Bowler hat with bunny ears is a great addition to any DIY Office Judy Hopps costume. Will fit kids three and up, teens and small adults.
Alternatively a bunny costume accessory set would also work nicely. This five piece set includes a headband with ears, costume paws, a fluffy tail, a bow-tie and a hair elastic with little lace bunny ears.
For parking ticket duty your costume needs an orange safety vest. The above vest is for children, for adults try this one.
Option 2: Complete DIY Judy Hopps Costume
To make your own Judy Hopps costume you'll need a blue shirt, blue pants or leggings, grey felt (cut out rounded triangular shapes and sew or hot glue over knees (obvs not while wearing)), black fingerless gloves, a black belt, a blue vest or an orange safety vest, bunny ears and tail and a badge.
If you'd like to make the ears and vest from scratch then check out this awesome homemade Officer Judy Hopps costume for kids.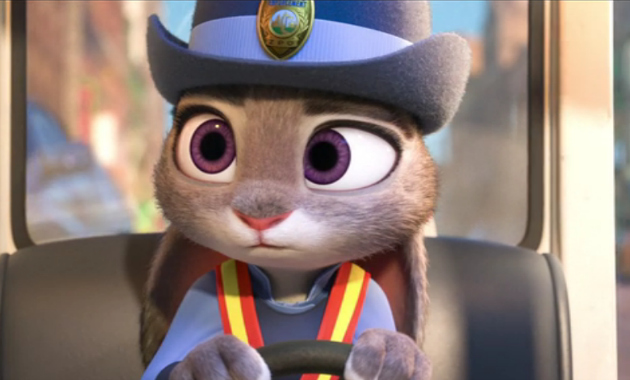 Officer Judy Hopps Bunny Make-up Tutorials
If you'd like to paint your child's face like a bunny rabbit or perhaps you want some Officer Judy Hopps makeup ideas for yourself, then here are a few tutorials.
Video 1 is a versatile look that is both quick and easy. Video 2 is a more in depth Officer Judy Hopps look. Video 3 is a perfect bunny look for kids using face paint.

Loading Videos...
Images: All photos are screen captures from the Zootopia movie and are Fair Use.